Wall Street
Rock Climbing
Routes in Wall Street
"Big Corner" T

5.10b/c

6b

20

VII

20

E2 5b

PG13
30 Seconds Over Potash T

5.8+

5b

16

VI-

15

HVS 4c

90 Paces S

5.8+

5b

16

VI-

15

HVS 4c

A Fistful of Potash T

5.10a

6a

18

VI+

18

E1 5a

Ananab S

5.10a

6a

18

VI+

18

E1 5a

Another Roadside Distraction T

5.10b

6a+

19

VII-

19

E2 5b

Arc Angel S

5.10a

6a

18

VI+

18

E1 5a

Armageddon S

5.12+

7c

28

IX

27

E6 6b

Astro Dad T

5.11c

6c+

24

VIII-

24

E4 6a

Astro Lad T,TR

5.11a

6c

22

VII+

22

E3 5c

Baby Blue T

5.11a

6c

22

VII+

22

E3 5c

Bad Moki Crack T

5.6

4c

14

V

12

S 4b

Bad Moki Roof T

5.9+

5c

17

VI

17

E1 5a

Bad Moki Slab T

5.6

4c

14

V

12

S 4b

Banana Peel S

5.10a

6a

18

VI+

18

E1 5a

Best Route Ever T

5.11c

6c+

24

VIII-

24

E4 6a

PG13
Beyer Offwidth T

5.9+

5c

17

VI

17

E1 5a

Big Sky Mud Flaps S

5.11a

6c

22

VII+

22

E3 5c

Blowing Chunks T

5.11b/c

6c+

23

VIII-

24

E4 6a

PG13
Bolts to Bumpy Land S

5.11c

6c+

24

VIII-

24

E4 6a

Broken Engagements

5.10

6b

20

VII-

19

E2 5b

A3
Brown Banana S

5.9

5c

17

VI

17

HVS 5a

Brownie T

5.4

4a

12

IV

10

VD 3c

X
Campground Crack T

5.9

5c

17

VI

17

HVS 5a

Chaco-late Chunk S,TR

5.3

3+

10

III

9

VD 3a

Chemistry T

5.12

7b+

27

VIII+

26

E6 6b

ChrisCross TR

5.10+

6b+

21

VII+

20

E3 5b

R
Coup D'etat T

5.11+

7a

24

VIII

24

E4 6a

Dark Horse S

5.12a

7a+

25

VIII+

25

E5 6a

Desp-Arete S

5.12b

7b

26

VIII+

26

E5 6b

PG13
Devil in Disguise T

5.4

4a

12

IV

10

VD 3c

Diplomatic Immunity

T A3

Dr Strange Flake T

5.11-

6c

22

VIII+

22

E3 5c

Dunn Copeland T

5.7

5a

15

V+

13

MVS 4b

R
East Of Wrath T

5.9

5c

17

VI

17

HVS 5a

Eat the Rich T

5.10c

6b

20

VII

20

E2 5b

El Cracko Diablo T

5.10a

6a

18

VI+

18

E1 5a

El Face-o Diablo S,TR

5.11d

7a

24

VIII

25

E5 6a

Enigma Campground Route T

5.10c

6b

20

VII

20

E2 5b

PG13
Eyes of Falina T

5.9

5c

17

VI

17

HVS 5a

R
Faith Flake T

5.11a

6c

22

VII+

22

E3 5c

PG13
Fernando S

5.11b

6c

23

VIII-

23

E3 5c

Fist Full of Potash Direct TR

5.10

6b

20

VII-

19

E2 5b

X
Flakes of Bongo TR

5.11+

7a

24

VIII

24

E4 6a

X
Flakes of Wrath T,TR

5.9+

5c

17

VI

17

E1 5a

Flakes of Wrath Direct T

5.11

6c+

23

VIII-

23

E4 5c

R
Frogs of a Feather T

5.10c

6b

20

VII

20

E2 5b

Good, The Bad, and the Potash, The T

5.11

6c+

23

VIII-

23

E4 5c

Grama and the Green Suede Shoes T

5.7

5a

15

V+

13

MVS 4b

Gumby Gulley T

5.4

4a

12

IV

10

VD 3c

Half Pipe T

5.11-

6c

22

VIII+

22

E3 5c

Hidden Message S,TR

5.6

4c

14

V

12

S 4b

PG13
High Over Datura S

5.11+

7a

24

VIII

24

E4 6a

PG13
Holey Moley S

5.5

4b

13

IV+

11

MS 4a

Horizontal Mambo T,S

5.12d

7c

28

IX

28

E6 6b

I Love Loosey S

5.12a/b

7b

26

VIII+

26

E5 6a

Jacob's Ladder S

5.10+

6b+

21

VII+

20

E3 5b

R
Jingus Launch T

5.12

7b+

27

VIII+

26

E6 6b

X
Jug Roof T

5.10a

6a

18

VI+

18

E1 5a

Junk In The Trunk T

5.12

7b+

27

VIII+

26

E6 6b

Just Another Pretty Face S

5.10

6b

20

VII-

19

E2 5b

R
Knapping With The Alien S

5.12a

7a+

25

VIII+

25

E5 6a

Lacto Mangulation T,TR

5.10a/b

6a+

19

VI+

19

E2 5b

Last Tango in Potash T

5.11

6c+

23

VIII-

23

E4 5c

Light of the World S,TR

5.10a

6a

18

VI+

18

E1 5a

Lip Balm Addict T,TR

5.6

4c

14

V

12

S 4b

PG13
Little Tufa's T

5.10

6b

20

VII-

19

E2 5b

Lizard Skills S

5.11

6c+

23

VIII-

23

E4 5c

Lucy in the Sky with Potash T

5.10b

6a+

19

VII-

19

E2 5b

Man After Midnight S

5.11c

6c+

24

VIII-

24

E4 6a

Mephistopheles T

5.13

8a

29

X-

30

E7 6c

Midnight Frightening T

5.12b

7b

26

VIII+

26

E5 6b

Mini Me T

5.9+

5c

17

VI

17

E1 5a

Mini Skirt S

5.9+

5c

17

VI

17

E1 5a

Mississippi High Step S

5.12a

7a+

25

VIII+

25

E5 6a

Mother Trucker T

5.11c

6c+

24

VIII-

24

E4 6a

Neopolitan S,TR

5.7

5a

15

V+

13

MVS 4b

Nervous in Suburbia S

5.10a

6a

18

VI+

18

E1 5a

No Fly Zone T

5.12c

7b+

27

IX-

27

E6 6b

Pedigree Poodles T

5.8

5b

16

VI-

15

HVS 4c

Pinhead T

5.10b

6a+

19

VII-

19

E2 5b

Points West T

5.10b

6a+

19

VII-

19

E2 5b

Potash Bong Hit T

5.9+

5c

17

VI

17

E1 5a

Potash Sanction T

5.11a

6c

22

VII+

22

E3 5c

Potstash S

5.9

5c

17

VI

17

HVS 5a

Pounding the Frog S

5.10b

6a+

19

VII-

19

E2 5b

R
Pounding The Frog Direct T

5.11

6c+

23

VIII-

23

E4 5c

PG13
Pounding The Frog Redirect T

5.11

6c+

23

VIII-

23

E4 5c

Practical Religion S

5.5

4b

13

IV+

11

MS 4a

Puppy Love T,S

5.9

5c

17

VI

17

HVS 5a

Rain Catcher T

5.11

6c+

23

VIII-

23

E4 5c

Ralph the Rat S

5.11-

6c

22

VIII+

22

E3 5c

Rhino Might S

5.12

7b+

27

VIII+

26

E6 6b

Right Side In T

5.9+

5c

17

VI

17

E1 5a

Right Way, The S,TR

5.8

5b

16

VI-

15

HVS 4c

Ring Pin T

5.8

5b

16

VI-

15

HVS 4c

Room With A View

T A2+

Room With A View (free) S

5.12b

7b

26

VIII+

26

E5 6b

PG13
Sand and Steel T

5.11

6c+

23

VIII-

23

E4 5c

School Room Slabs TR

5.5

4b

13

IV+

11

MS 4a

Seam As It Ever Was T

5.11b

6c

23

VIII-

23

E3 5c

Seamed like a good idea T

5.6

4c

14

V

12

S 4b

PG13
Seibernetics T

5.8+

5b

16

VI-

15

HVS 4c

Shadowfax S

5.11a

6c

22

VII+

22

E3 5c

PG13
She-la the Peeler S

5.9

5c

17

VI

17

HVS 5a

Shoot Up or Shut Up T

5.11a

6c

22

VII+

22

E3 5c

Shoot Up or Shut Up Corner T

5.11a

6c

22

VII+

22

E3 5c

Skeletonic T

5.11+

7a

24

VIII

24

E4 6a

PG13
Slab Route S

5.7

5a

15

V+

13

MVS 4b

Smoke Filled Rooms T

5.11a

6c

22

VII+

22

E3 5c

Snakes Slab S

5.8

5b

16

VI-

15

HVS 4c

Something Nasty T

5.12

7b+

27

VIII+

26

E6 6b

Static Cling T

5.11-

6c

22

VIII+

22

E3 5c

Steel Your Face S

5.10a/b

6a+

19

VI+

19

E2 5b

Stego Slab S

5.9+

5c

17

VI

17

E1 5a

Summit Chimney T

5.9

5c

17

VI

17

HVS 5a

Take A Chance On Me S

5.12b

7b

26

VIII+

26

E5 6b

Tap Root S

5.9

5c

17

VI

17

HVS 5a

Tastes Like Chicken S,TR

5.7

5a

15

V+

13

MVS 4b

Tempting the Guillotine T

5.12

7b+

27

VIII+

26

E6 6b

Tired of Talus T

5.11b

6c

23

VIII-

23

E3 5c

Top 40 T

5.8+

5b

16

VI-

15

HVS 4c

Twittin Shinkies T

5.11b

6c

23

VIII-

23

E3 5c

Two Sides of Purple, The T

5.10

6b

20

VII-

19

E2 5b

Uncertain S

5.12-

7a+

25

VIII+

25

E5 6a

Under the Boardwalk S

5.12c

7b+

27

IX-

27

E6 6b

Unemployment Line T

5.10+

6b+

21

VII+

20

E3 5b

unknown T

5.7+

5a

15

V+

13

MVS 4b

Unknown T

5.12

7b+

27

VIII+

26

E6 6b

Unknown Mixed Treasure T

5.12-

7a+

25

VIII+

25

E5 6a

Visible Panty Line T

5.10a

6a

18

VI+

18

E1 5a

Wake of the Flood T

5.10c

6b

20

VII

20

E2 5b

Walk on the Wide Side

5.10a

6a

18

VI+

18

E1 5a

Warsteiner S

5.11b/c

6c+

23

VIII-

24

E4 6a

Welcome to Anexia T

5.12

7b+

27

VIII+

26

E6 6b

Willow Whip T

5.6

4c

14

V

12

S 4b

Yogini S,TR

5.7

5a

15

V+

13

MVS 4b

Zig Zag S

5.10a

6a

18

VI+

18

E1 5a
| | |
| --- | --- |
| Elevation: | 4,283 ft |
| GPS: | 38.547, -109.6 Google Map &middot Climbing Area Map |
| Page Views: | 659,971 total · 2,776/month |
| Shared By: | Tradkelly on Dec 3, 2001 · Updates |
| Admins: | slim, Andrew Gram, Nathan Fisher, Perin Blanchard, GRK, DCrane |
Access Issue:
RAIN, WET ROCK and RAPTOR CLOSURES: The sandstone around Moab is fragile and is very easily damaged when it is wet. Also please ask and be aware of Raptor Closures in areas such as CAT WALL and RESERVOIR WALL in Indian Creek
Details
WET ROCK: Holds rip off and climbs have been and will continue to be permanently damaged due to climbers not respecting this phenomenon. After a heavy storm the rock will remain wet, sometimes for several days. PLEASE DO NOT CLIMB IN MOAB during or after rain.
Indian Creek 2019 info:
link
blm.gov/press-release/annou…
.
RAPTOR CLOSURES: please be aware of seasonal raptor closures at the Cat Wall and Reservoir Wall. They occur annually from March 31st until August 31st. *Due to the federal hiring freeze in agencies such as the BLM of Monticello, no official closure for 2017 has been issued and the laws which have been put in place in previous years are not being enforced. Please, for the sake of fragile desert ecology, DO NOT CLIMB at stated walls. These raptors return to the same nesting sites every year to raise their nestlings.
Access Issue:
Poop Alert!
Details
Recently there has been a rash of human poops along Wall Street. There are bathrooms in the campgrounds a half mile from popular crags here. Use them.
Description
Navajo sandstone with roadside (shoulder of the highway) belaying and excellent access from Moab with well over a hundred climbs from 5.4 TRs to 5.12, mixed sport and trad. Actually too many routes with some contrived sport routes in too small an area, but worth a visit. Gets morning to midday sun and in the warm season stays very hot until late in the afternoon. Be wary of descriptions in some guidebooks; anchors have disappeared from some climbs, so carry a selection of trad gear on climbs where you can't see them. Restrooms are available .3 miles N at Jaycee campground and .8 miles S of the Indian Writing sign at the south end of the climbing area.

This is a good area to get a feel for some of the climbing in the area, or if you only have limited time in the area. Expect it to always be crowded, even in full-sun summer conditions. Cool off and refill water later at the (potable) natural spring on the N side of River Road (turn E just south of the bridge on 191 as you head back to Moab, it's on the right in an obvious large paved pullout).
Getting There
Drive north out of Moab on 191 and cross the bridge over the Colorado; continue 1.3 miles and make the left (south) turn onto Potash Road (279). The climbing areas start about 4.2 miles onto the road (at the 'Park in Designated Areas Only' sign). General parking is in turnouts on both sides of the road for the next mile or so, generally under the climbs themselves. Use caution as 4x4s and trucks generally ignore the 30mph speed limit in the area, and tourists gawk and don't watch the road as they go past. I personally wear a road guard vest while belaying to alert people that I'm not potential target.
Classic Climbing Routes
at Wall Street
Mountain Project's determination of the classic, most popular, highest rated climbing routes in this area.
More Classic Climbs in Wall Street »
Weather Averages
| | |
| --- | --- |
| High | Low |
| Precip | Days w Precip |
All Photos Within Wall Street
Most Popular
·
Newest
·
Random
More About Wall Street
Printer-Friendly
What's New
Guidebooks (8)
Featured Guidebook: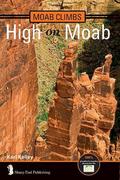 Moab Climbs: High on Moab
Karl Kelley / Sharp End Pub…
Not only a great resource for the desert climber, but 100% of royalties go to the Access Fund.