Princess Buttercup
Avg: 3 from 37 votes
Your Difficulty Rating:
-none-
Change
Access Issue:
No Toilet Facilities! Raptor Nesting Climbing Avoidance Areas - In Effect
Details
Access Issue:
RAIN, WET ROCK and RAPTOR CLOSURES: The sandstone around Moab is fragile and is very easily damaged when it is wet. Also please ask and be aware of Raptor Closures in areas such as CAT WALL and RESERVOIR WALL in Indian Creek
Details
WET ROCK: Holds rip off and climbs have been and will continue to be permanently damaged due to climbers not respecting this phenomenon. After a heavy storm the rock will remain wet, sometimes for several days. PLEASE DO NOT CLIMB IN MOAB during or after rain.
Indian Creek 2019 info: or the
link
blm.gov/press-release/annou…
.
RAPTOR CLOSURES: please be aware of seasonal raptor closures at the Cat Wall and Reservoir Wall. They occur annually from March 31st until August 31st. *Due to the federal hiring freeze in agencies such as the BLM of Monticello, no official closure for 2017 has been issued and the laws which have been put in place in previous years are not being enforced. Please, for the sake of fragile desert ecology, DO NOT CLIMB at stated walls. These raptors return to the same nesting sites every year to raise their nestlings.
Description
Climb cups to fists in a slot and gain a nice hands splitter on the left wall. Climb hands until you reach a large pod and then choose your own adventure: the pod is awkward and sandy or climb the the hand crack to the right.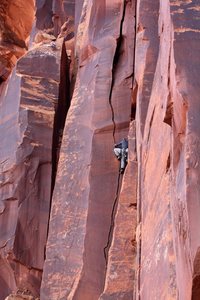 splitter
1