S-Direct, Variation
Avg: 3 from 23 votes
Your Difficulty Rating:
-none-
Change
Access Issue:
Gate Buttress Area Recreational Lease: Climbs on Church Buttress above vault remain closed
Details
Climbers Partner with LDS Church on Stewardship of Little Cottonwood Canyon Climbing
June 1st, 2017:The Salt Lake Climbers Alliance (SLCA), the Church of Jesus Christ of Latter-day Saints (LDS Church), and Access Fund announce the signing of an unprecedented lease for 140 acres in Little Cottonwood Canyon (LCC). The parcel, known as the Gate Buttress, is about one mile up LCC canyon and has been popular with generations of climbers because of its world-class granite.
The agreement secures legitimate access to approximately 588 routes and 138 boulder problems at the Gate Buttress for rock climbers, who will be active stewards of the property. The recreational lease is the result of several years of negotiations between LDS Church leaders and the local climbing community.
Access Note: The climbs on the Church Buttress above the vault as well as the Glen boulders that have been traditionally closed will remain closed.
Please help us steward this area and leave no trace.
Read More:
saltlakeclimbers.org/climbe…
Description
At the 2nd belay station from S-Direct, head straight up. Still healthy runouts, but fun climbing linking chickenheads on less gritty rock. From the third bolt on the direct var., I could not see another bolt to my right on the original route as shown on the topo, where I remember from my previous ascent. I belayed at a small overlap, where you can get small but good cams, and sling a giant chickenhead just to the right. Pulling over this overlap, the climbing gets easier, though still runout. The anchor shown on the topo for the crux pitch is BAD - 2 quater inchers. One LONG pitch above the overlap will reach easy ground.

All in all, we enjoyed S-Direct (direct variation) tremendously. I would give the Variation one R, and the Original route 2 R's. Timid climbers and Good samaritans: still some manky and missing bolts up there to replace!One last note: the walkoff still sucks. I vote for a zipline from the summit of the Thumb to the Gate boulders.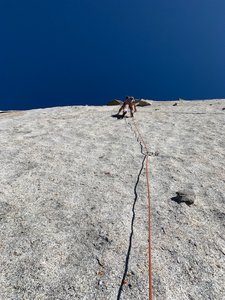 Slab
0