Road Head
Avg: 2 from 2 votes
| | |
| --- | --- |
| Type: | Trad, 700 ft (212 m), 6 pitches, Grade III |
| FA: | Jason Brown |
| Page Views: | 2,213 total · 15/month |
| Shared By: | Jay 1975 on Jul 13, 2009 |
| Admins: | Leo Paik, John McNamee, Frances Fierst, Monty, Monomaniac, Tyler KC |
Your Difficulty Rating:
-none-
Change
Access Issue:
Seasonal Raptor Closures
Details
Description
Pitch 1: Start in front of 3 trees in the S.O.B. Gully, right side, in front of 3 trees and a cairn. Wander up the line of weakness (thin cracks and face) to a ledge with a crack on the face to the left, and a thin crack in an obtuse corner above. 5.8+; 120'.

Pitch 2: Climb the thin crack around a bulge; wander 130' up to a grassy ledge with a large boulder. 5.9.

Pitch 3: A cairn marks the start of this pitch; straight up from the last belay, face climb a short distance to a block; surmount the block and continue up the crack, bushwhacking along the way up this left-facing corner to a ledge on the left. Belay from the 2nd ledge up with a large block on it. 5.10; 100'.

Pitch 4: Dicey moves out right from the ledge; Loweballs useful. Continue right and up the face (small pro) to a ledge; traverse back left 30 feet. Down 8 feet to a belay ledge with a flat boulder. 5.10; 90'.

Pitch 5: Move left off the belay to the base of a chimney. Climb the dirty chimney for 60 feet, then traverse left under the huge chimney. Good pro up under the roof. Exit around the corner to a huge belay ledge. 5.9; 80'.

Pitch 6: Continue up left-facing corner for 15 feet; surmount huge flake and continue up face/ slab for 110' to a large, right-facing dihedral/ chimney with rotten rock. Climb cracks in rotten rock to a large belay ledge. 5.10; 180'.

Walk to climber's right and 3rd class up gully system (caution!) to rim. Bushwhack and hike to Exclamation Point Trail.
Location
Hike down S.O.B. Gully for 15 minutes; veer right off main trail. Hike through a large stand of trees, always hugging the wall on the right side of the gully. If you are directly parallel with the Casual Route Buttress, you have gone too far. Start is at a 10 foot tall tree, 15 feet back from the wall; shorter (6 feet) trees stand, one up hill and one down hill from the larger tree. A cairn marks the start, and is on the wall proper. Look for thin cracks on good rock on the wall, past a gully. The first 2 pitches trend up and right to a large, grassy terrace (Lauren's Arete ending); the last 4 pitches are relatively plumb from the exit of P2 on the grassy terrace.

This route provides all the standard Black Canyon fare: some loose rock, some good rock, some dirty chimney climbing, face climbing, traverses, and good exposure. It will clean up nicely after a few more have ventured on it. Enjoy the "Road Head"!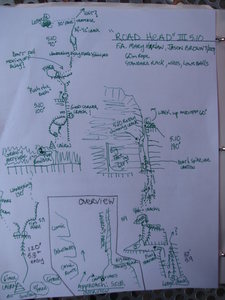 Topo.
0