Cat's Meow
Avg: 1.8 from 38 votes
Your Difficulty Rating:
-none-
Change
Access Issue:
Rim Rock Trail Closure
Details
Rim Rock Trail at N. Table Mt. Park is closed through July 31 to protect raptor nesting territory and ground-nesting bird habitat.

It's likely few climber go there, but it may affect the adverturous.
Description
This is the easiest sport route in this section of cliff, so it should become popular. Pull a bulge past the first bolt, then head for a jutting block. Sneak right around the block (beware the perched stone on the back of the ledge), then back left into a corner. It also goes on the left side of the block but with greater difficulty. The corner ends on a ledge, where the route joins "
Twinkletoes
" for two more clips and a shared anchor.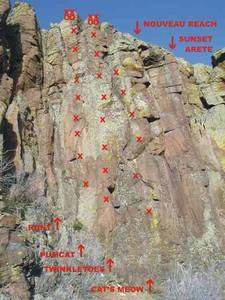 untitled
0