Killian's Red
Avg: 2.6 from 26 votes
Your Difficulty Rating:
-none-
Change
Access Issue:
Rim Rock Trail Closure
Details
Rim Rock Trail at N. Table Mt. Park is closed through July 31 to protect raptor nesting territory and ground-nesting bird habitat.

It's likely few climber go there, but it may affect the adverturous.
Description
This route is in the center area of the Winterfest Wall area, just two climbs left of
Silver Bullet
. Start up broken rock at the beginning and aim for a blank face with two bolts in it. The crux of this route comes after clipping the first bolt on the face. Move right under a roof and grab a poor undercling with your right hand. Move your feet high and reach real high with the left for a jug. It's not a very obvious sequence. Above this, the face becomes slightly more low angle and is small but fun crimpers and edges to the top.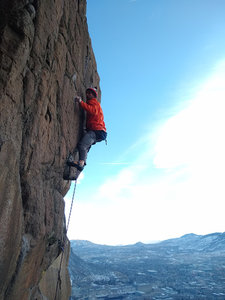 Angus.
2