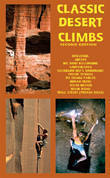 Knapp, Fred. 2002 Classic Desert Climbs Second Edition
NOW INCLUDING POTASH ROAD AND BIG BEND BOULDERING!
Utah's Canyon Country is one of the most inspirational landscapes in which to climb. Classic Desert Climbs highlights hundreds of the region's best routes with firsthand accuracy. Areas include Wall Street, the Big bend Boulders, Arches, Canyonlands, Colorado National Monument, the Moab area, and more.
Areas Covered