Northwest Arkansas (NWA) Region
Climbing
Areas in Northwest Arkansas (NWA) Region
Description
This is the collection of crags that are within an hours drive reach to the Fayetteville/NWA hub. WOO PIG
Lake Lincoln
:
The quintessential local crag for anybody living in Northwest Arkansas. Only about a 20-30 minute drive from town, this crag offers some quick and easy access to some short routes. This area is by no means a destination, but a worthwhile visit for a local climber or visiting party if they're itching to get on some local rock. Lake Lincoln is arguably a better bouldering destination that offers a large array of boulders for anyone to tick. Routes not to miss are "
Mad Max
", "
Quest for the sticky stuff
" & "
PJ
"
Daniel Poulain on his redpoint go - photo by Justin Salas
Shepherd Springs:
Perhaps the most quality local crag in the region. It doesn't quite receive the attention it deserves and likely due to the fact that it is a little more of a commitment in distance in comparison to most local crags. The climbing here can at times be dirty and a little un-kept, however there are a few gems worth venturing for. Classics include "
Stump Route
", "
Biscuits and Jam
"
Bigfoot Hollow
:
The regions newest addition of development. Loads of quality boulders tucked into the woodline and all within a 45 minute drive from town. Still lots of opportunity to add to the mix out here.
Area 74
: Classic roadside bouldering wall that features some staple problems for the state. A perfect crag for those winter days where you're limited on time and commitment to travel into the deep ozarks.
Classic Climbing Routes
at Northwest Arkansas (NWA) Region
Mountain Project's determination of the classic, most popular, highest rated climbing routes in this area.
More Classic Climbs in Northwest Arkansas (NWA) Region »
Weather Averages
| | |
| --- | --- |
| High | Low |
| Precip | Days w Precip |
All Photos Within Northwest Arkansas (NWA) Region
Most Popular
·
Newest
·
Random
More About Northwest Arkansas (NWA) Region
Printer-Friendly
What's New
Guidebooks (2)
Featured Guidebooks: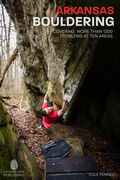 ---