Description
This little crag sits about 30-40 minutes west of Fayetteville. It is dark and dirty but there are some great climbs here. Total roped climbs number around 40 or so. The climbing ranges from easy 5.4 to hard 5.13 with (I think) at least one route needing a FFA that is supposedly hard 5.13. There is also some bouldering to be found and some that is still to be or in process of being developed.
Getting There
There are several ways to get there. I will give one from Fayetteville: Take Hwy 16 west out of Fayetteville. Drive past Lake Weddington another 5-10 miles. In a very sharp right hand bend on Hwy 16 you will take a left on N. Jackson Hwy or Hwy 669 heading south. Follow this road until you come up to Lake Lincoln on your left. Turn left down a little dirt road and park in the parking area that is on your right. You can also cross the creek and park there as well. You can also see the map coordinates attached here. This road (Hwy 669) will take you all the way in to the town of Lincoln if you go too far.
Classic Climbing Routes
at Lake Lincoln
Mountain Project's determination of the classic, most popular, highest rated climbing routes in this area.
More Classic Climbs in Lake Lincoln »
Weather Averages
| | |
| --- | --- |
| High | Low |
| Precip | Days w Precip |
All Photos Within Lake Lincoln
Most Popular
·
Newest
·
Random
More About Lake Lincoln
Printer-Friendly
What's New
Guidebooks (3)
Featured Guidebooks: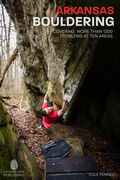 ---