The Pussy
Avg: 2.7 from 23 votes
Your Difficulty Rating:
-none-
Change
Access Issue:
Seasonal Raptor Closures
Details
Please be aware of the annual raptor seasonal closures!
Raptor Closures Effective February 1-July 31
Visit:
jeffco.us/open-space/news/2…
Tunnel 1 closure
For more details visit:
jeffco.us/open-space/alerts…
The two areas Jefferson County Open Space intends to close in Clear Creek Canyon, shown on the attached maps, encompass the active eagle nests. If the Clear Creek eagles continue to nest in the active nests, these areas will remain closed from February 1 through July 31. If the eagles choose different nesting sites, the closures will be adjusted accordingly to protect those eagles during their breeding season.
Currently, rock climbing areas that fall inside of the seasonal raptor closures include:
Blonde Formation
Bumbling Stock
Evil Area
Ghost Crag
Highlander
Skinny Legs
Stumbling Block
Tetanus Garden
Fault Caves
Per
the rockfall mitigation project has been completed. Marked as archived / Project Status: Complete on CODOT.
Project Work Resumes Nov. 13 Following Summer Shutdown
On Tuesday, Nov. 13, crews will resume work on this project, starting with rockfall mitigation on US 6 from mile points 260 to 272. Remaining work, anticipated to be completed in April 2019, includes:
scaling rock; removing scaled rock; and installing rock reinforcement, rock anchors, mesh anchors, and 160,000 squat feet of wire mesh.
codot.gov/projects/us-6-cle…
Access Issue:
Open according to a Jeff CO ranger
Details
After months of negotiation, Clear Creek County successfully acquired the 76-acre Oxbow Parcel that contains the Cat Slab cliff. While the cliff line is protected, the area is now officially open to the public. The County is working on developing and implementing a site plan to provide safe, off-road parking, which may include shifting the guard rail and gate to provide more parking as a short-term solution.

Cat Slab was a popular crag before it was closed to the public in 2006 due to liability concerns. The County purchased the land using $725,000 in lottery funds, awarded by Great Outdoors Colorado (GOCO). The County was supported by numerous recreational groups, including the Access Fund, Colorado Mountain Club, Colorado Whitewater, Trout Unlimited, International Mountain Bicycling Association, and Rafting Outfitters on Clear Creek.
Description
Start on the steep slab just left of
Unknown
, 5.6. Sharp crimps lead you through the first couple clips straight into the roof and up to the overhanging arete. Fight the pump physically and mentally, DON'T bail right! Pull an exciting mantel over the lip, and finish on easy slab to the top. Right as you start to feel a little runout, there should be a piton to clip before the anchors.
Location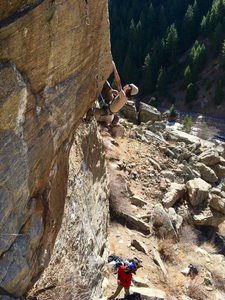 FA.
1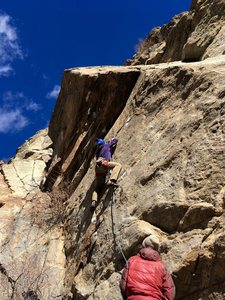 STEEP!
0