Killer Cave
Rock Climbing
Description
One word: steep. That would sum it up. Killer Cave is home to some very steep routes. Pumpfest routes like
Killer
(12c),
Mr. Majestyk
(12d),
The Throne
(13a), and
Bush Doctor
(12a). The Killer Cave is also home to some of the hardest lines at sinks, like Virga (13c),
Busload of Faith
(14a), and
Come Home Curly
(13d/14a).
Happily, for the non-mutant in all of us, Killer Cave includes curtain walls to the left and right with classic lines with angles closer to vertical. Some classics here include
Action Candy
(9+),
Second Hand Nova
(10d/11a),
Harvest Moon
(11a), and
Elmo's Fish
(10d).
The top of nearly all lines in the main cave keep shade all day. The sun travels across the wall from left to right, due to the curvature of the wall.
Classic Climbing Routes
at Killer Cave
Mountain Project's determination of the classic, most popular, highest rated climbing routes in this area.
More Classic Climbs in Killer Cave »
Weather Averages
| | |
| --- | --- |
| High | Low |
| Precip | Days w Precip |
All Photos Within Killer Cave
Most Popular
·
Newest
·
Random
More About Killer Cave
Printer-Friendly
What's New
Fixed Hardware Report (1)
Guidebooks (1)
Featured Guidebook: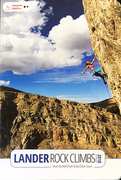 Lander Rock Climbs 2018
Steve Bechtel, Kyle Duba, B…
This is with out the best guidebook for the Lander area. The guide is 330 pages of color action s…