Tube Socket Low
Avg: 3 from 3 votes
Your Difficulty Rating:
-none-
Change
Access Issue:
Private land
Details
Climbers have access up to the roped fence. Owners do not want climbers going down to the river. There is also livestock that roams the forest. Please keep your dogs under control. Boulders on east side of river are off limits.
Description
Start under the roof, pull the lip, and up the high slab.
A high start beginning on the nose with opposing sidepulls and feet in the overhang is also a very good problem and goes at about V5.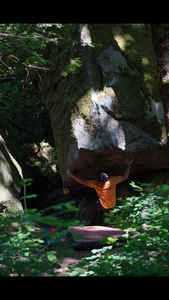 Jacob
0