Southwest Virginia (Appalachia)
Climbing
Areas in Southwest Virginia (Appalachia)
Description
Bountiful boulderfields and copious crags found throughout the far southwestern region of Virginia. Appalachia at its finest. Whether its perfect southern sandstone, chunks of gnarly granite, or steep volcanic rhyolite up in GHSP, this corner of the Old Dominion has something that will put a smile on your face.
Classic Climbing Routes
at Southwest Virginia (Appalachia)
Mountain Project's determination of the classic, most popular, highest rated climbing routes in this area.
More Classic Climbs in Southwest Virginia (Appalachia) »
Weather Averages
| | |
| --- | --- |
| High | Low |
| Precip | Days w Precip |
All Photos Within Southwest Virginia (Appalachia)
Most Popular
·
Newest
·
Random
More About Southwest Virginia (Appalachia)
Printer-Friendly
What's New
Guidebooks (4)
Featured Guidebook: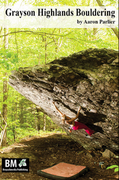 Grayson Highlands Bouldering
Aaron Parlier / Brayak Medi…
The Grayson Highlands Bouldering Guidebook contains 349 problems spread among 160 pages with gorg…