The Syringe
Avg: 3 from 20 votes
| | |
| --- | --- |
| Type: | Boulder, 17 ft (5 m) |
| FA: | Mike Auldridge, Mike Hickey |
| Page Views: | 1,915 total · 14/month |
| Shared By: | Damon Vaughan on Apr 3, 2009 |
| Admins: | James Schroeder, Leo Paik, John McNamee, Frances Fierst, Monty, Monomaniac, Tyler KC |
Your Difficulty Rating:
-none-
Change
Access Issue:
Raptor Closures - May 15 - July 31
Details
Per
Citsalp
: raptor closures (peregrine falcons) are in effect in 2019: the South Face climbing area is impacted by these closures
May 15 - July 31
from Blackish Blobs (west side of S. Face) across the South Face to Sunday Morning. . . and these include the top of the rock (above the climbs, not the hike to the "summit") and the descent trail. Other climbing areas should remain open.
Description
Do some cool steep gym-like moves on crimps, and stand up on the slopey ledge to the right. Apparently, most people just drop off from here, but I think the finish is awesome and totally worth doing. It's much easier than the start, but it's really high and kinda scary.
Location
If you are looking at
Ode to Failure
, this problem is directly behind you, on the right side of the big boulder. Start on two low crimps with lots of chalk.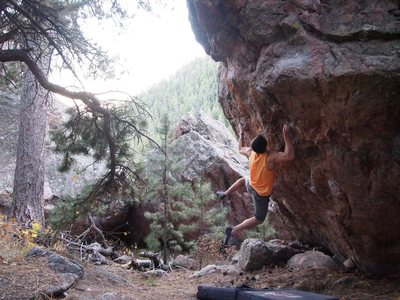 So good!
1