Husker Pup
Avg: 2.3 from 3 votes
Your Difficulty Rating:
-none-
Change
Access Issue:
Access:
Details
The only access issue for this area is the seasonal closure of routes on the north side of Tom's Thumb.
Please be aware of, and abide by the closure when it is in effect!
For more information, please visit
scottsdaleaz.gov/preserve
Description
From a sit-started undercling hold located directly in the center of the boulder, you climb up vertically with the left handed feature and move slight-right on to the almost invisible crimps. Using sharp, micro-crimps and friction foot-holds, you top out dead center of the boulder and scramble off the right side
(DO NOT CONFUSE WITH 'THE CHILDREN WILL WEEP, ' the V0 to the right: the obvious fissure.)
*Also, this route is not rated in the tradition of sandbagging this area is known for.
Location
Look for the isolated boulder over the hill on trail to the Sven Slab. Directly before the Sven Slab approach and before the boulder hoping begins, you'll find the "Iggy Boulder" with a blue, vertical spray painted line at its base.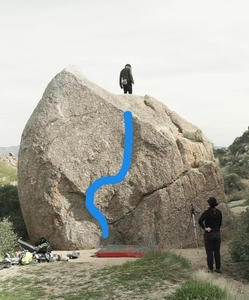 Beta
3