Assent
Avg: 2.6 from 11 votes
| | |
| --- | --- |
| Type: | Boulder |
| FA: | unknown |
| Page Views: | 1,044 total · 23/month |
| Shared By: | Andrew N on Sep 24, 2017 |
| Admins: | |
Your Difficulty Rating:
-none-
Change
Description
Start with the opposing side pulls. Top out making the best of the slopers and/or pinches that recede toward the top of the spherical boulder.

Note: I do not claim to be the "developer" of this route. It looks pretty straightforward, even aside from the chalk marks left from previous climbers on the side pulls and jugs. I am only posting this description for two reasons: so that others will be on the look out for this fun route and so that others can add their opinions about its difficulty/rating/etc.
Location
This route is on the same boulder as "Get the hang of it". It is directly across from a park bench.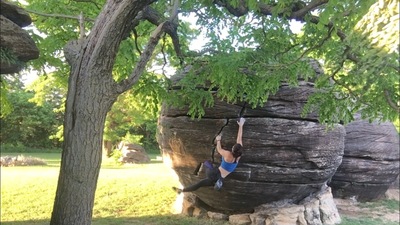 V1
1