Description
Homestake Pass is scattered with boulders and small crags. There are some developed areas and no doubt lots more to be done. The climbs are up to two pitches. The rock is coarse, solid granite.
Classic Climbing Routes
at Homestake Pass
Mountain Project's determination of the classic, most popular, highest rated climbing routes in this area.
More Classic Climbs in Homestake Pass »
Weather Averages
| | |
| --- | --- |
| High | Low |
| Precip | Days w Precip |
All Photos Within Homestake Pass
Most Popular
·
Newest
·
Random
More About Homestake Pass
Printer-Friendly
What's New
Guidebooks (6)
Featured Guidebook: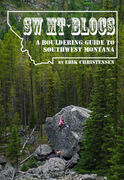 SW MT Blocs
Erik Christensen, Sick Proj…
SW MT Blocs is your guide to more than 1,000 different boulder problems all within a few hours of…