Colorado Scrambles: A Guide to 50 Select Climbs in Colorado's Mountains
---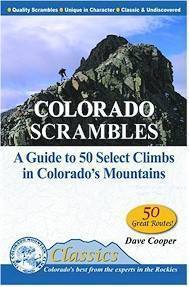 by Dave Cooper, Colorado Mountain Club Press, 2005.
Colorado Scrambles: A Guide To 50 Select Climbs In Colorado's Mountains (Cmc Classics) (Paperback) by Dave Cooper "Scrambling encompasses the realm between off-trail hiking and technical climbing..."

Book Description
- Fully GPS enabled to identify critical locations on both the approach and the climb
- Contains many little-known but excellent routes as well as the classics
- Full-color guidebook
- The latest in the Colorado Mountain Club's series: CMC Classics

The Colorado Mountains provide endless opportunities for climbers, and now in the latest installment of the Colorado Mountain Club's Classics series, Dave Cooper has compiled this guidebook that offers complete descriptions for some of the best scrambling throughout the state of Colorado. Rather than use the height of a peak or its region, this book explores the quality of the scrambling routes. Written for the experienced mountaineer interested in not only bagging summits, but also in a challenge, rock quality, position and remarkable routes. You'll find scrambles in the San Juan Mountains, Sangre de Cristo Range, the Park Range, the Gore Range, Tenmile Range, The Mosquito Range, the Sawatch Range, the Front Range, and the Elks.

This guidebook contains detailed information on what makes the route unique, how to start the climb, access issues, crux sections and route finding tips. Extensive photographs take the scrambler along the route for clarification, and the book is fully GPS enabled to identify critical locations on both the approach and the climb. Detailed topographic maps make routes easier to locate.