Bloom Effect
Avg: 4 from 1 vote
Your Difficulty Rating:
-none-
Change
Access Issue:
low impact
Details
climbing is on a not yet developed land plot for future homes in rancho vistas.
Description
Start with your right hand in the obvious mail slot with your left hand on the lowest rounded side pull. with a high and awkward left foot, stab for the pinch, match the pinch/crimp, throw for the solid left hand crimp and power for the top jug. plenty of intermediates.
Location
hike past cow tipping along the trail until you come to a dead end. walk over the hill of debri and rocks until you come to a paved road. walk the paved road for 100 yards until you can see a dark face on the top of the mountain facing east. it is in this niche up on the hill.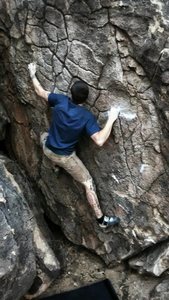 mid crux
0