Lion Tamer
Your todo list:
Your stars:
Your rating:
-none-
[change]
Your ticklist:
[add new tick]
Your opinion of this PAGE:
[2 people like this page.]
BETA PHOTO:
Lion Tamer - 5.10c (belays marked) Yellow - the ro...
Printer View
Description
Lion Tamer is a spectacular climb- In August 2016 the trail has been cleaned up and a bit of gardening has been done, hopefully it will start to see some more lovin'! The rock could use a little more traffic, but the pitches are long and sustained and the movement is super fun. All of the cruxes protect well and could be aided through if need be.
1. 55M (5.10c) Start up the obvious chimney- dirty looking, but the climbing is clean and quite physical, old-school 5.9. After about 30 meters of climbing you will have two options to finish the pitch. Directly overhead you'll see a 30 ft. squeeze chimney capped by a roof. The most commonly travelled option traverses left on spooky looking flakes for 15 ft.(the pro here is solid), then you climb a crack straight up to the roof. A pumpy undercling traverse right back into the corner leads to an obvious crack exit.
Option 2 is to climb the chimney overhead at 5.9+, then make some tricky 5.10 moves to exit the chimney to a 5.10 hand crack. This crack leads to the same tough moves to surmount the small roof. The back of the squeeze chimney takes #2 C4 cams.
Either way, you will want to save a #.75, #1 and #2 (C4 sizes) and a couple double slings for the traverse and pumpy roof exit at the top of this pitch..
*belay is obvious- 3 pitons with slings and a couple rap rings (top piton is loose, but the other two are bomber)
2. 5.9 Goes straight up the obvious groove and has a nice 5.9 layback at the end that deposits you on an ample ledge.
*Look for slings on trees, your choice of a couple good belay spots.
3. takes you up some more wide but awesome 5.9 maneuvers and puts you directly into good 5.10 thin hands and laybacks. After this little crux another 50 or so feet of 5.9 will bring you to a comfy belay ledge
4. Fun 5.9 laybacking up a wide crack to an awkward mantle. Some easy face climbing and a finish behind a wide flake.
There is a great 2 pitch variation which actually covers pitches 2, 3, and 4 and deposits you at the base of pitch 5. Here is a picture from the bottom of pitch 2- it shows the features that move to the left, and above you can see the tree that you'll climb to the left of: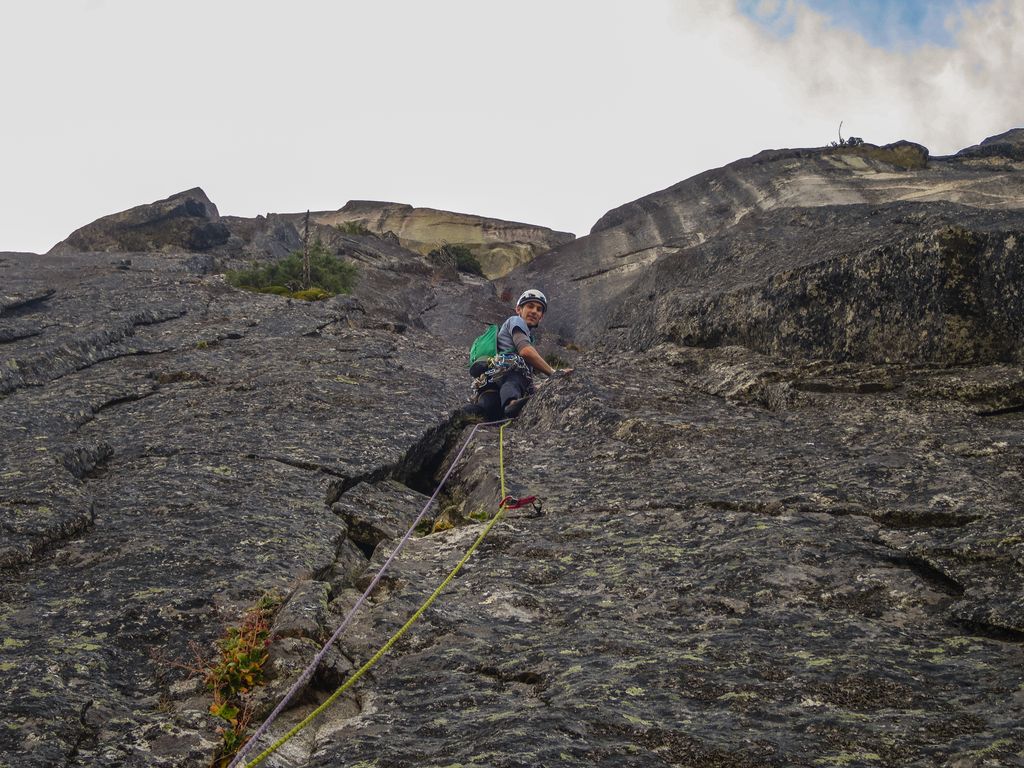 Climb the variation as follows:
pitch 2: (5.9) Climb left from the belay on easy flakes with good pro. Stay to the left of the small ledge and bypass the scrappy tree with slings. Climb fun wide cracks to a beautiful belay ledge in a hidden corner.
pitch 3: (5.10b) more beautiful crack climbing, (though slightly dirty) will eventually deposit you on the big belay ledge and reunite with the route.
5. Climb the chimney overhead (easier than it looks), then a finger crack in an open book. Exit left via a 5.10- hand traverse. Surmount the left-facing flake and climb up a ramp to the right, to a large mossy belay ledge.
6. Now an easy exit right will get you close to the top. Low fifth. Climb up the corner 15 feet or so, and walk the foot rail to the right around the corner. From here it is an easy scramble to the top, but best to belay soon or the rope drag around the corner can stop you cold.
Location
Takes the obvious line right-of-center on the North Face. Look for the left-facing chimney (1st Pitch).
Descent is due south via two slabby raps with one 60.
* First rap station is in a bunch of trees directly over the South Face Slab route.
To find 2nd rap station, drop directly down the South Face. with 10 m of rope left, you''ll rap over a bulge, land on a small ledge and scramble back up 8 feet to slings and a big cable around a good-sized tree.
From the base, look for the easy ramp that will take you up to the West shoulder. From here, there is another easy ramp down the North Face that will take you almost to the base of the route.
Protection
- double rack from tips to #3 C4, optional #4
- 1 set of nuts
- 8-10 alpine draws
- 2 double length slings
- one 60m rope
*snowfield at the base is not an issue later in the season, but an ax will be handy in June.
By Kelty Godby
From: Spokane, WA
Sep 4, 2017
rating:

5.10c

6b

20

VII

20

E2 5b




Route is amazing. I didnt think the route was dirty; it certainly didn't detract from the quality of the climbing. First variation pitch is ok, the second one is fun. We linked pitches 4 and 5 (or 3 & 4 depending on how you look at it), coming out of the variation pitches, worked out well. Go do it!