Dunkel
5.11c, Sport, 125 ft (38 m),
Avg: 3.3 from 4 votes
FA: unknown
Utah > Southwest Utah > Saint George > Utah Hills > Diamond
Access Issue:
Access requires crossing private property
Details
Climbing at the Diamond is open with an ok from Teck mining company. Although the crag isnt on private land the road leading up to it is owned by teck mining co. Please be respectful.
Description
Fantastic variety of holds, movement, and rock features up this long and lovely line. You'll be glad you did it.
Route is characterized by three distinct sections. The beginning is thin and somewhat sharp, a few pockets and slits, up and over a couple bulges. You might find a hand jam, if you're into that kind of thing. Next up is a section of bulletproof gray, all geometric angles that decorate both sides of a mini arete. Play with body positioning and see what happens. Finally, ease right for the last section of pocket-pulling. Just when you think it couldn't possibly keep going, it does. Simply glorious.
Location
Right of the huge choss corner/chimney; 75 feet before the stairs to the easier slab climbs.
Protection
20 bolts to anchor with carabiners; requires an 80m rope or shenanigans
Photos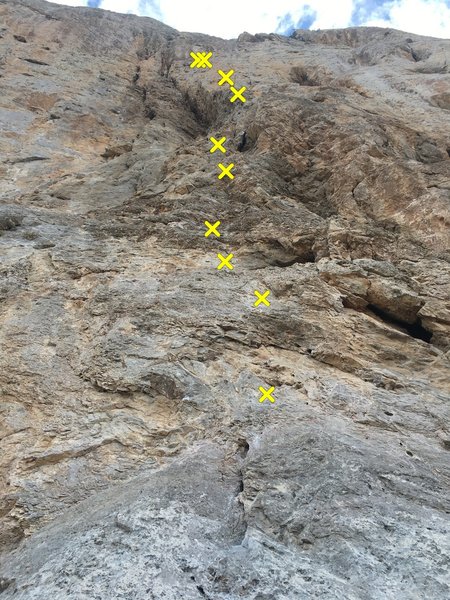 Dunkel