Trump Card
Avg: 2.7 from 3 votes
| | |
| --- | --- |
| Type: | Sport, 50 ft (15 m) |
| FA: | unknown |
| Page Views: | 183 total · 14/month |
| Shared By: | Thierry Berland on Oct 25, 2020 |
| Admins: | Luc-514 |
Your Difficulty Rating:
-none-
Change
Access Issue:
This cliffs is insured by the FQME
Details
This cliffs is under the liability insurance of the Fédération Québécoise de la Montagne et de l'Escalade (FQME).

Residents of Canada need to have:
-FQME 'Accès Montagne' membership (55$)
-For members of the Alpine Club of Canada an FQME 'Accès Montagne' upgrade (30$)
Or purchasing a 10$ day pass.

This money is used to pay the liability insurance for landowners regardless if they are private citizens, municipal or provincial.
The maintenance of cliffs and their access, replacing of fixed protection.
fqme.qc.ca
Description
Very nice route, start one the slab, follow the slab and finish on the slab (just to follow the bolts) !
Location
The sixth route of the upper ledge (from the left), start above the third anchor.
Several routes are available to reach the upper large ledge : Doud Frippon, Nostalie d'été, Départ Précose, Crazy Carpet Ride
The descent of the large ledge can be done in two abseils (1 with two 70 meters ropes)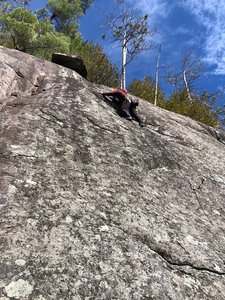 Climbing
0