Northeast Overhang
5.10+, Trad,
Avg: 4 from 1 vote
FA: unknown (who put in the pitons?)
Maine > a. Western Moun… > Daggett Rock
Access Issue:
Peregrine Falcons
Details
Peregrine Falcons and other raptors nest on many of these remote cliffs. It is best to avoid climbing in the spring and early summer (before August) so as not to disturb these protected birds.

Most of these cliffs are too remote and are on private land, so access has historically been low key. It is important to be respectful of the wildlife in these wilderness climbing locations.
Description
There were two rusty pitons (one of which got pulled out when I was cleaning the gear), indicating that old school hardmen have probably climbed it before. I found the gear a bit tricky to place, and led it with pre-placed gear. I'm tentatively calling it Northeast Overhang 5.10+. If anyone is aware of a previous free ascent please let me know. youtube.com/watch?v=LpKwMK9…
Location
This is "Crack Project 19" in the mini guide. Starting at the center of Daggett Rock, ascend the arching crack, then traverse left around the arete (crux), traverse further left on crimps and pull the roof.
Protection
small cams and medium sized nuts.
Photos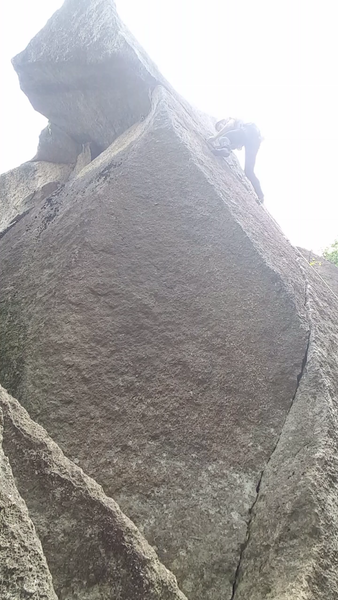 at the crux traverse