36 Volts to Anywhere
5.10d, Trad, 180 ft (55 m), 3 pitches,
Avg: 3.6 from 17 votes
FA: p1 A.Wood, G. Shank, D.Taylor p2-3, A. Wood, D. Taylor, M. Rynkiewicz, G. Webster
Washington > Central-W Casca… > Skykomish Valley > Index > Lower Lump Area > Beetle Bailey Slab
Access Issue:
The Novel Coronavirus & 2020 Seasonal Raptor Closure
Details
Two issues:

1) The novel coronavirus and Index residents.
Residents of Index are very concerned about visitors spreading the virus to them. Please be considerate by taking some serious precautions such as

- Be extra safe to greatly reduce the chance of needing a rescue. (Choose partner carefully, just TR routes. Triple-check setups...)
- Do not interact with the people in town or on a trail. (Choose an obscure crag & route. Drive carefully through town.)
- In case the above two precautions fail or you come across someone on a trail or crag, bring a facemask and gloves to wear to prevent spreading the virus from your breath or hands. In lieu of a facemask, a bandana or scarf over the nose and mouth can also reduce the spread of fine droplets from your nose and mouth when you speak. Also, try to keep the 6-foot recommended distance from other people.

2) 2020 Seasonal raptor closure: Our resident pair of Peregrines selected a nest site on the 6th pitch of Sabbra Cadabra this year, similar to 2016 and 2018 nesting seasons. Please do not climb in the area shown here until approximately July 15, 2020. This includes the upper pitches of Sabbra Cadabra, Black Radish, and Hell Bent for Glory.

Every spring, Washington State Parks, WDFW, Access Fund, and Washington Climbers Coalition partner to identify the nest site of Index's Peregrine falcons. Once identified, a spot closure is instituted around the selected nest site through approximately July 15th. Report potential raptor nesting activity to info@washingtonclimbers.org. Big thanks to WDFW and the climbers who are assisting with the Index Volunteer Raptor Monitoring Program each year, and to Patagonia & Feathered Friends for additional support of the Newhalem and Index raptor programs!



The labor of love.
It took a handful of hard driven, rain soaked, climbers a year to wrestle this route out of the moss. Perhaps said best by one of our most prolific; "Index takes a village" (and a lot of beer)
P1 Starts right of Hedge trimmer, just behind the tree, clipping bolts up to a thin right trending crack with small pods. Place a cam, move left then right to stand on the crack, then up more bolts. Zag right then Zig left making use of edges and matches with stemming feet through a triangular formation of rails (cruxish). Aim for Mussy hooks if just top roping. 10c/d
IF doing the next pitch forget the Mussys and blast off right up the dog legging crack to an anchor in an alcove, one may also simply begin the second pitch mid blast and link p1-2.
P2 from the alcove belay, traverse left to a bolt and mantle with conviction. Follow grooves and a weakness through bolts. Do NOT go out the wild ramp left, that is a different and also excellent climb. Go straight up through stemming and a finger jam crux corner. 10d/11a
P3 Le Roof.... Not much to describe, its awesome and harder yet easier than it looks. Mostly bolts but bring a .75. One may shout at parties on Ride the Lightning 10c/d
Descent: p3 Has Mussy Hooks. From P2 parties can rappel to the ground with a 70 meter.
Location
Just behind the large tree right of Flying Salamander and the Tombstone. Two bolts leading up fun slabbish or juggish climbing depending on the path chosen.
Protection / Top Roping.
Single rack to 0.75 mostly bolts.
p1 and p2 are best led as one 34 meter pitch. (Makes for a classic Index TR) ....Recommended...
P1 can be top roped from obvious mussy hooks with no traverse at only 10c
Everything Hertz is a fine alternative starting pitch and is easily linked into p2
Photos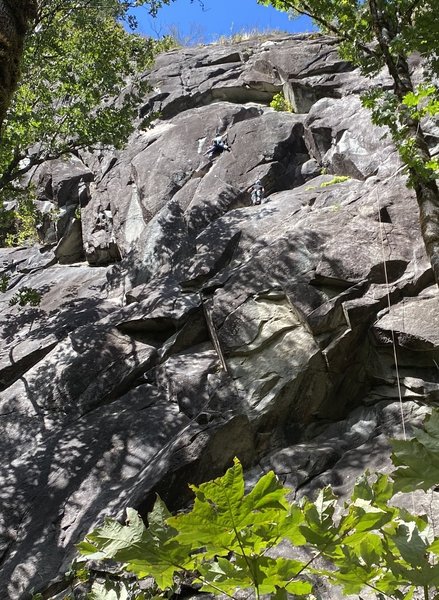 Courtney resting before the crux on 36 Volts P.2.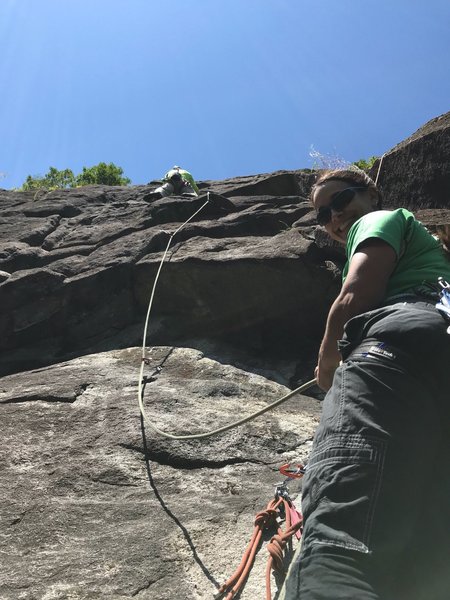 Start of p3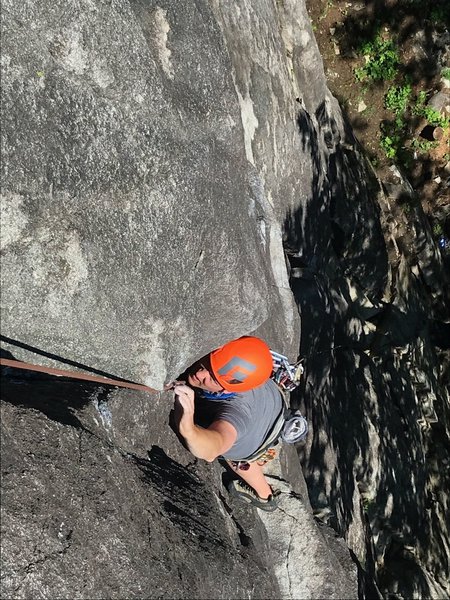 G shank p2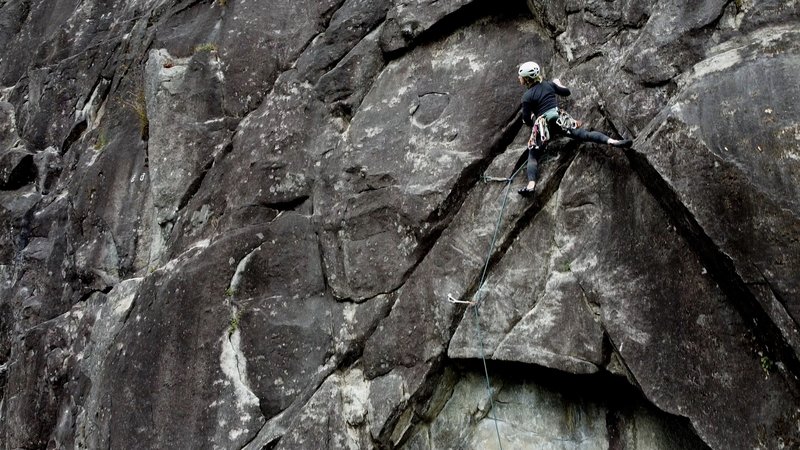 Sonya Kepler checking out the second roof on p3