69 Grit
5.10b/c, TR, 60 ft (18 m),
Avg: 1 from 1 vote
FA: Benny, Tyler, Jeremy
Wyoming > Kemmerer Area > Birthday Crag > Eastern Wall of Birth…
Description
Work up the sugary sandstone corner through the orange patina and some pockets. Gain the ramp. Which is a slippery sloping ledge...move ever so delicate and tenderly, back to the left crimp and then "the best hold on the route" with left hand, which is just out of reach unless you are 6'6" and have a positive ape index . Push on up over the bulge for a good right foot (twist) in a crack flare. Break on through to the other side back to the right, after finger crack and balance around the corner of the arete to climb face holds or gain a crack system on the right side. Finish at the 3 bolts. Pat yourself on the back. Ur done. Walk off or rappel if you like.
Location
Right of 420 Send it!
Protection
TR only 3 bolts at the top to build anchor on
Photos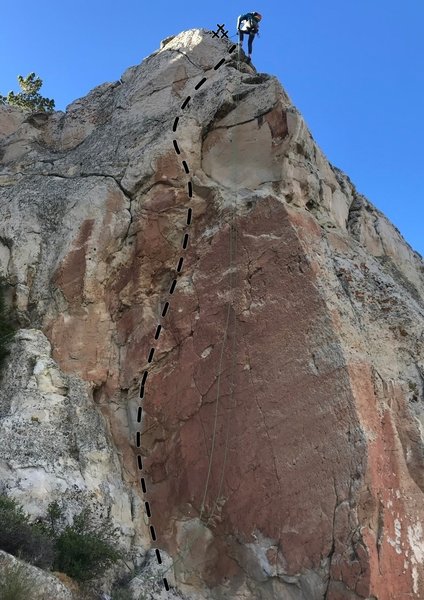 The route and rapping in