Please Don't Break
Avg: 3 from 1 vote
Your Difficulty Rating:
-none-
Change
Access Issue:
Covid-19 Closures!
Details
Description
Both hands start on a sloppy crimp , then it's a a fairly dynamic move to good sloper with the right hand, and finally a dyno to catch a good left hand crimp at the top and a top out.

Ideal climber height for this is ~5'7". Tall enough to reach the sloper, but still has to jump for the top crimp.

Many variants of this climb can be done to make it easier, but be careful of rocks breaking off the top and if you use any holds not described.
Location
After going down the trail from Roadside Rock to get to the bank of the reservoir, turn left. Walk until the banks curve inwards a little bit and where there's a small chasm you have to cross, then look up at the tree line. You will see a large, dark rock towards the top. The climb is on the most vertical part of the rock, facing the water.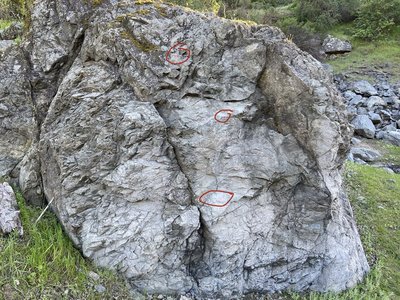 Holds
0