Hidden Nutrients
V3+, Boulder, 8 ft (2 m),
Avg: 2.4 from 5 votes
FA: ??
Texas > Austin Area > Bull Creek Park > Parking Lot Bou… > Back Wall
Description
Start in an awkward position and then lean back enough to grab a crimp on the underside of the lip and use it to reach all the way to the top of the wall.

Somewhat height dependant but I think there are good options for most people.
Location
Middle of the wall. Look for the bulge in the top out shelf and this climb is directly beneath.

Starting holds marked in photo. Left hand starts in juggy semi-hidden Mono/ledge (better than it sounds) and right hand pressed onto a slopey section above some blue graffiti with a high left foot. (Sort of a mantle position).
Protection
1-2
Photos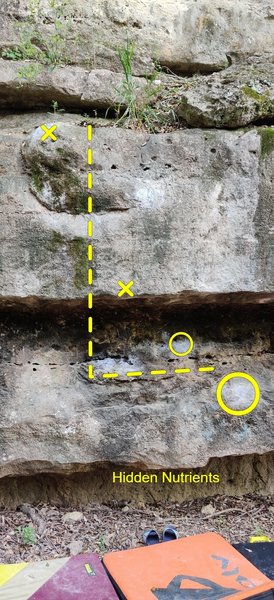 Hidden Nutrients