The Unladen Swallow
Avg: 1 from 2 votes
Your Difficulty Rating:
-none-
Change
Description
Good warm-up. Start on the obvious flake at chest-level from the ground, move up and left to a slightly smaller flake, match on the juggy ledges to your right, and smear feet and match on the arete before topping out.
Location
To the right of the trail, the first real freestanding boulder you see after switchbacking down the rocky outcropping, on the inner face overlooking two other big boulders.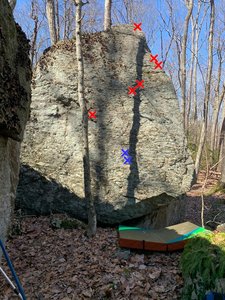 Boulder
0