Mama H
5.5 PG13, Trad, 80 ft (24 m),
Avg: 3 from 2 votes
FA: unknown
Nevada > Southern Nevada > Red Rock > 07-Willow Spring > Bathroom Overlook TR
Access Issue:
Red Rock RAIN AND WET ROCK: The sandstone is fragile and is very easily damaged when wet.
Details
Holds rip off and climbs have been and will continue to be permanently damaged due to climbers not respecting this phenomenon. After a heavy storm, the rock will remain wet, sometimes for several days. PLEASE DO NOT CLIMB IN RED ROCKS during or after rain. A good rule of thumb is that if the ground near your climb is at all damp (and not powdery dry sand), then do not climb. There are many alternatives (limestone, granite, basalt, and plastic) nearby.

HUMAN WASTE Human waste is one of the major issues plaguing Red Rocks. The Las Vegas Climbers Liaison Council and the AAC provides free "wag bags" in several locations (Black Velvet, First Pullout, Kraft Mtn/Bouldering, The Gallery, and The Black Corridor). These bags are designed so that you can pack your waste out - consider bringing one to be part of your kit (just like your rope and shoes and lunch) no matter where you go. Once used, please dispose of them properly (do not throw them in the toilets at the parking area).

Description
No real crux, maybe the top out. Pretty easy, sustained the whole climb. I didn't want to scramble from the side to setup top rope so I followed the crack to the left of "Unnamed" Bathroom overlook climb.

As a newer trad climber it was a bit tricky to find protection. Set of nuts or small cams up to #2 worked fine for me. I placed 4-5 pieces.

The 2 bolted anchor for the TR "Unnamed" climb is to the right of the top out and is about 5 feet from the edge. Bring long cords or slings if you're planning on setting up TR.
Location
Behind the Restrooms next to the picnic benches. Scramble right of the restrooms up to a big flat ledge.
Protection
Set of nuts, Cams up to #2. 2 bolt anchor with rings.
Photos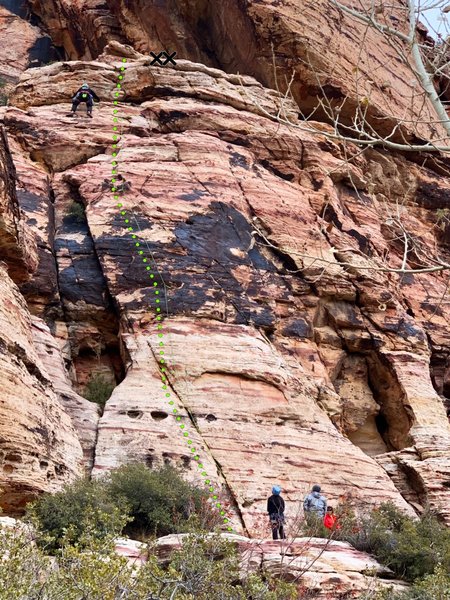 Lead