La Classique
5.4, Trad, 492 ft (149 m), 5 pitches,
Avg: 3 from 2 votes
FA: 1971
International > N America > Canada > Quebec > 05. Estrie - Ea… > Mont Pinacle > j. Le grand dièdre
Access Issue:
This cliffs is insured by the FQME
Details
This cliffs is under the liability insurance of the Fédération Québécoise de la Montagne et de l'Escalade (FQME).

Residents of Canada need to have:
-FQME 'Accès Montagne' membership (55$)
-For members of the Alpine Club of Canada an FQME 'Accès Montagne' upgrade (30$)
Or purchasing a 10$ day pass.

This money is used to pay the liability insurance for landowners regardless if they are private citizens, municipal or provincial.
The maintenance of cliffs and their access, replacing of fixed protection.
Description
The Classique is an alpine style route. Done in multiple pitch (3 - 5).

P1: Small pitch. Start at the botom than climb on the left corner than cross to the right to reach the two glu in beside the tree.

P2: Climb straight ahead about 10m than cross to the left. Follow the diagonal crack to a cedar tree. It is just under Camey route. Anchor on a tree.

P3: Follow the tree line than reach a big block. Climb above it than straight up to a ledge. Anchor on gear.

P4: Climb straight up on the block. (Be carefull, there is a wood block under a rock. Leave it there) After the block climb up slightly righ to a ledge. Anchor on gear

P5: Cross to the right on a small balcony to a tree than righ again. Climb up to reach the traverse. Traverse on a obvious horizontal crack with a pin in the middle. Than up to the top. Two glue in at the top.

Walk down the mountain via trail 1 to the parking.

Pitch can be linked.
Location
From the parking, take trail no1 than turn right to trail no 2 (see the board with FQME info on it). Finaly right on the climber trail (see a tree with FQME info on it). Follow the yeallow tape. At Planétarium area take the left trail up to the Grand Dièdre.
Right at the bottom of the Grand Dièdre or rappel from the top anchor( 2x 60m rappel) when there is no one under.
Protection
All on gear except anchor 1 and 5. Some old pin. Pro can be stretc out some time.
Photos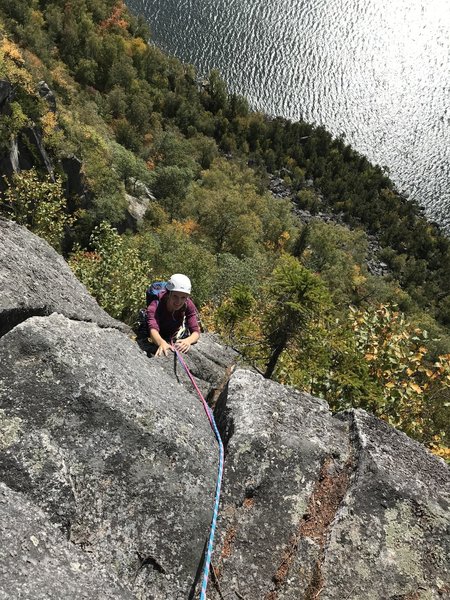 Arriving at anchor no.4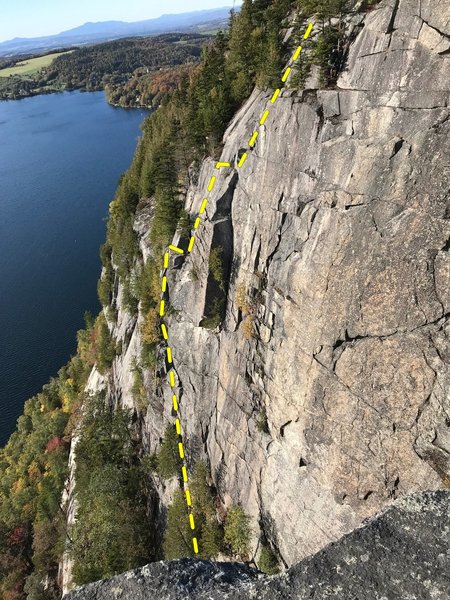 La classique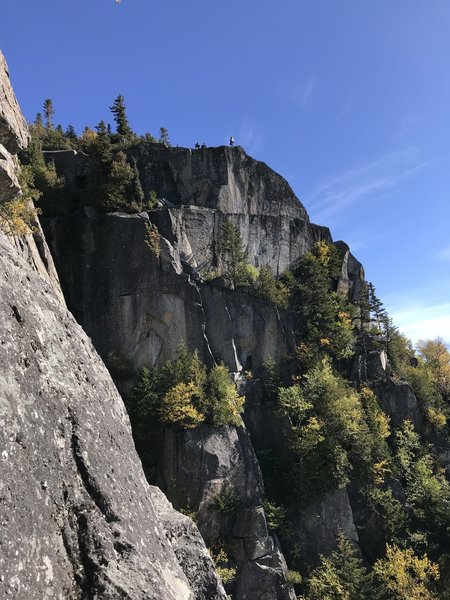 view from picth 3