Cursed Be the Ground
5.13a R, Trad, 45 ft (14 m),
Avg: 3 from 1 vote
FA: Andrew Leich, July 2019
W Virginia > Coopers Rock St… > Mont Chateau Trail
Description
This route ascends the center of the wild series of overhangs resembling the famous "Lactic Acid Bath" at the New River Gorge. Begin with campus moves and a slightly committing unprotected throw to a jug. Climb through three more boulder problems, separated by gear and rests, including a large lockoff, and a gym-like "volume" feature. Bear down on crimps to finish it. Falling at the "volume" can result in a large "cheese grater" fall scraping your back down a tree. Wear a shirt. It is worth noting that the last three holds of the route are often wet, and generally require three to four straight days without rain to be dry, which is rare in West Virginia. The best times to find it dry are August and October/November. Due to deep theological conversations at the crag, the route name comes from the Biblical account of Genesis, where God curses the ground in response to man's sin, instead of cursing man directly, always providing room for redemption.
Location
Approaching from Mont Chateau: Hike the trail behind the building to Quarry Run. After Crossing Quarry Run, head left, uphill. When you see the large "coral" boulder on the right side of the trail, and a beautiful waterfall on your left, walk straight uphill and you will arrive at the short cliff band.
Protection
Gear, bring a #4 Camalot. The hemlock at the top is a perfect anchor.
Photos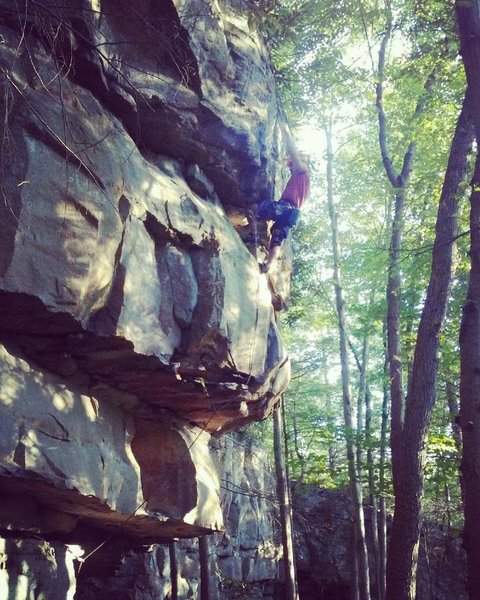 The kneebar rest before the final boulder problem.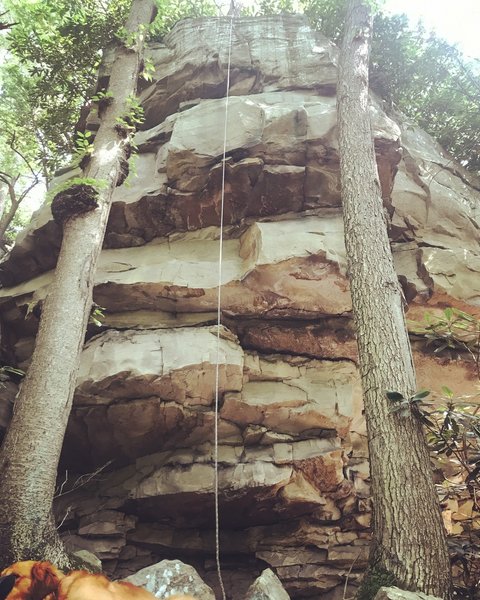 The rope essentially marks the line of the route. Note the square-cut "volume" feature at the fourth roof, just right of the rope.