Easy Movements
Avg: 2 from 3 votes
Your Difficulty Rating:
-none-
Change
Access Issue:
Due to COVID 19, please be respectful of the residents of Almo. Wear a mask when indoors at places like Rock City or the Visitor Center. (1) Weather Wall, Yellow Wall, & all the crags north of Twin Sisters are CLOSED. (2) No trash cans. (3) Highlining temporary ban in place for CIRO and CRSP
Details
(1) The area, crags, and routes just north of the Twin Sisters are on private land and the landowner recently posted no trespassing notices at the gated road/trail to the area. Any access of these areas and routes is trespassing. The area was closed by the landowner due to trespassing, illegal camping, fires & trash, and disregard of owner's privacy.
Please be respectful of the land owner's wishes and do not climb or hike here until further notice. This includes White Lightning, Skinner Roof, Weather Wall, Yellow Wall, Larry's Annihilation, Needle Rock, Mississippi Fred's, and Secret Tom's. Park officials and CRAG are working to regain access to this valuable climbing resource. Be patient and check back for updates.
(2) No trash cans anywhere in City of Rocks:
urlzs.com/c4eZH
(3) HIGHLINING IS PROHIBITED
By the authority of the park manager, Highlining at City of Rocks National Reserve and Castle Rocks State Park is temporarily prohibited as of August 28, 2019.
The park(s) is reviewing highlining activities. Here are Google Drive links to the closure and the updated Code of Regulations for CIRO.
drive.google.com/open?id=1y…
and
drive.google.com/open?id=1Y…
Description
We started on a flake, that is maybe 5.6, then the slab climbing above is fun and easy to a two bolt anchor. Just to the left, is an ancient 1/4" bolt. Pitch two, is straight friction slab climbing. You can walk off, or, below the top is a knob where a gear anchor can be built to bring up a second.
Location
Ascend the crack formed by a flake at the bottom, then head for the two bolt anchor. Pitch two, head up to the knob to build an anchor for a second, or head for the top.
Protection
No anchors except the two newer and one ancient one, right in the middle of the slab (top of pitch one). Not much of anyplace useful to put pro en route either, so you are on your own getting a rope up top. If someone in your group can manage that, though, it is fun and easy climbing on top rope, even for beginners.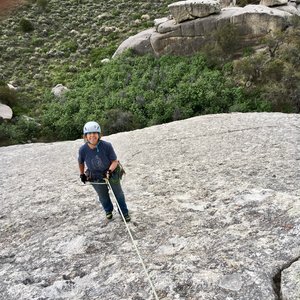 Slab!!
0