Dark Crystal
WI5 M4, Trad, Mixed, Ice, 60 ft (18 m), Grade III,
Avg: 4 from 2 votes
FA: FRA Philipe pibarot, Bernard Mailhot, Charles Laliberte & Jean Martel
New Hampshire > NH Ice & Mixed > - Franconia Notch > Cannon Ice Climbs
Description
Per the Wilcox guide book:

A new, nearly independent line between the dike and fafnir (recent rock fall has blended it into hassigs direct). climb the first pitch of the black dike, the second pitch climbs immediately right of the dike via thin mixed climbing to the belay just above. The final pitch climbs right to thin flakes and corners and then up onto fat ice to the right of the right hand finish of the dike. the second pitch used to sport a bizarre cave (which has now fallen off).

My description:

climb the first pitch of the dike, setup belay as far right as possible to avoid destroying your belayer. a good spot is about 6-8 feet under the tat for the dike rock traverse and about 15 feet to the right.

climb the ice up to the high traverse (there is now a yellow .2 x4 stuck at the lower section of the high traverse) and into a corner, from there you'll gain a 8-10 foot column that will dinner plate 6 ways to sunday. it'll take screws, but the quality may not be the best. reminded me of the repentance crux. from there you'll gain a ledge where you can traverse left 2-3 feet and gain a corner which should take a stubby. after that depending on conditions, you can mix climb utilizing the less than 1/2 inch thick ice on the right and rock with your left foot. this corner puts you slightly overhung, you'll pull the roof and find some moderate ice, but beware, it can be baked out or snow/slush ice.

beware traversing left onto the dike anchor if there is a party above you climbing the 3rd pitch.
Location
black dike area
ascent: same as dike
descent: same as dike
Protection
any screws down low. 13's and stubbies for the climb. pin with red cord right before the column that may or may not form.
Photos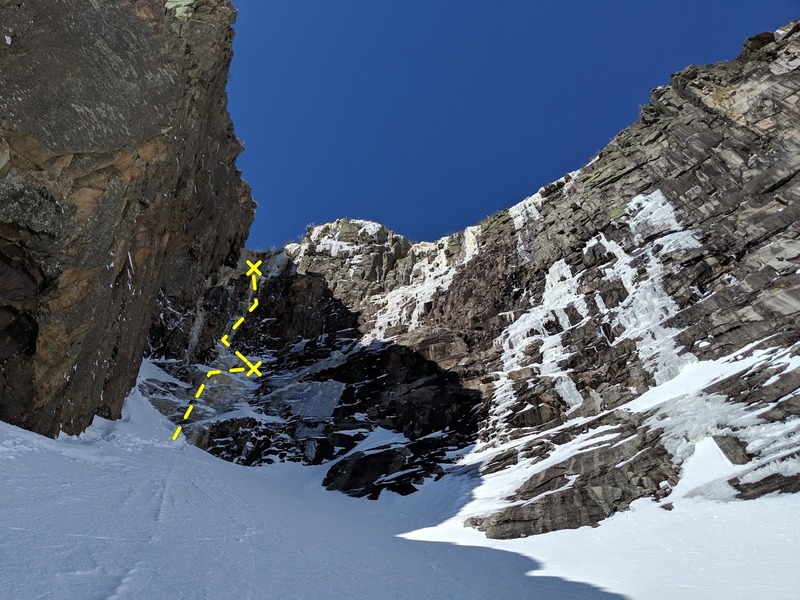 after the 2nd belay it's CYOA to finish up...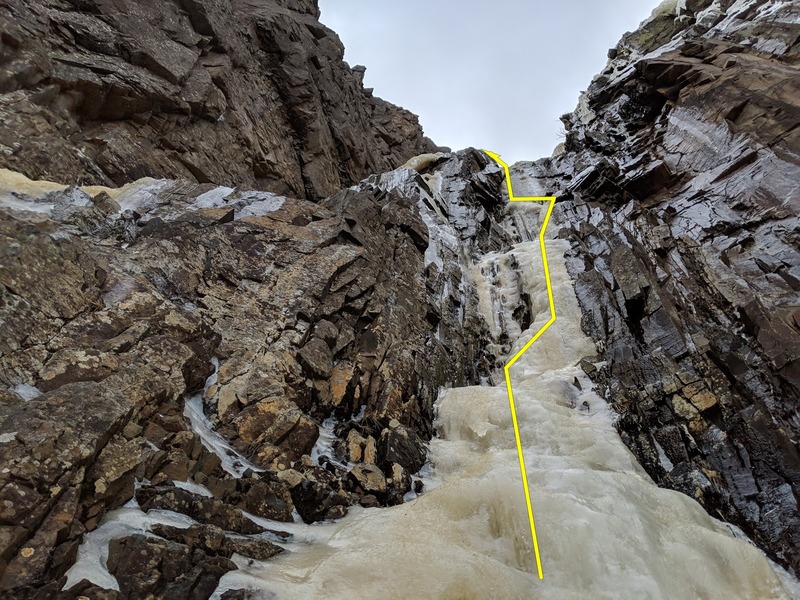 dark crystals in thin conditions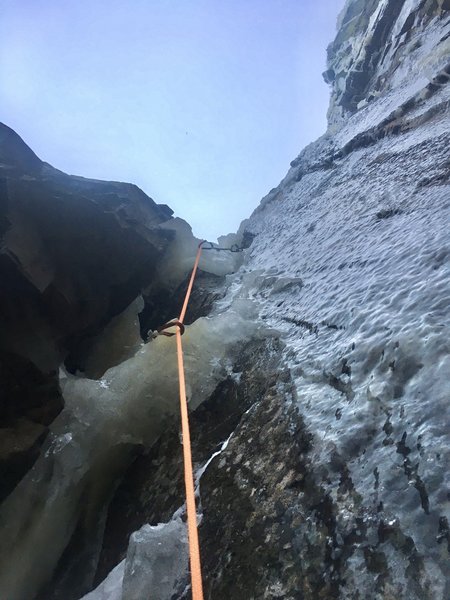 Following the tricky section on 2/1/2020