Crag Booty Low
Avg: 3 from 1 vote
Your Difficulty Rating:
-none-
Change
Access Issue:
Access is always an issue here.
Details
Please do not litter and observe all regulations. We had to fight to regain access at one time, and we don't want to lose the privilege again. Local ethics and refuge regulations are that no bolting is permitted unless expressly authorized by the park. Leave the hammer and nails at home, no fixed gear please. Everything will go clean.
Description
Starting in the small cave feature on a good undercling and poor pinch, gain the slopey crack up and right. Smear your feet or just campus as you transition into Crag Booty. Dabby start.
Location
Traverses from the left side of the freestanding boulder directly behind Arm Bar and Foolish.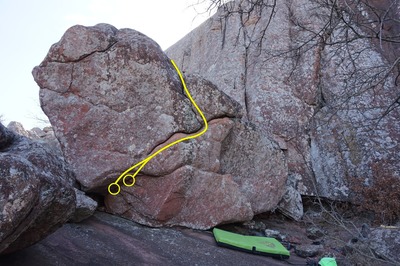 The line
0