West End Boys
5.10a PG13, Trad, 60 ft (18 m),
Avg: 2 from 2 votes
FA: unknown
Maryland > Locust Grove > TimBarb Buttress
Access Issue:
CLOSED
Details
Please do not climb at Locust Grove. Local climbing organizations, advocates, and Access Fund are working to address recent No Trespassing signs.
Description
Route directly next to Timbarb, essentially on the arete. Start on the right edge of the buttress and climb up the black broken rock to reach a small overhang on the right edge. Pull hard to turn overhang to right facing edge; fight the barn door. past this crux, it is pretty relaxed. Follow the obvious flake to the ledge with a tree. From there follow the arete from here, which is protected with one bolt 5 down and to the right from the anchor. Note: Some of the rock here is severely fractured and loose.
Protection
Standard rack. Micro nuts can protect the final 20' arete portion but are not necessary as there is a bolt there.
Photos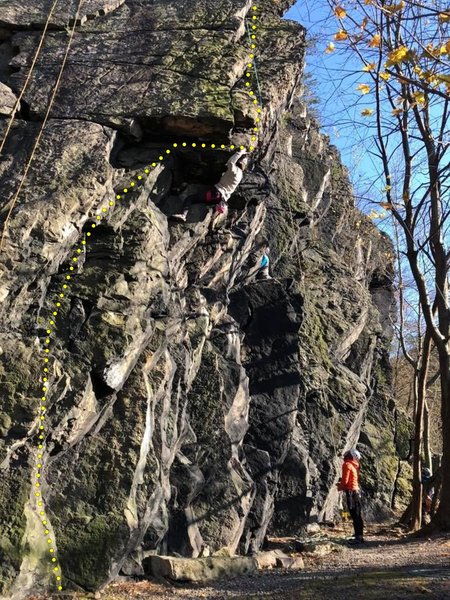 Figuring the crux