The Dragon
5.11a, Trad, 460 ft (139 m), 5 pitches,
Avg: 3.6 from 9 votes
FA: unknown
Nevada > Southern Nevada > Red Rock > 16-Black Velvet… > Mustang Wall
Access Issue:
Red Rock RAIN AND WET ROCK: The sandstone is fragile and is very easily damaged when wet.
Details
Holds rip off and climbs have been and will continue to be permanently damaged due to climbers not respecting this phenomenon. After a heavy storm, the rock will remain wet, sometimes for several days. PLEASE DO NOT CLIMB IN RED ROCKS during or after rain. A good rule of thumb is that if the ground near your climb is at all damp (and not powdery dry sand), then do not climb. There are many alternatives (limestone, granite, basalt, and plastic) nearby.

HUMAN WASTE Human waste is one of the major issues plaguing Red Rocks. The Las Vegas Climbers Liaison Council and the AAC provides free "wag bags" in several locations (Black Velvet, First Pullout, Kraft Mtn/Bouldering, The Gallery, and The Black Corridor). These bags are designed so that you can pack your waste out - consider bringing one to be part of your kit (just like your rope and shoes and lunch) no matter where you go. Once used, please dispose of them properly (do not throw them in the toilets at the parking area).

Description
The Dragon is a fantastic climb up the massive corner system on the left side of the Mustang Wall. Unusual for Red Rocks, this route features sections of physical crack climbing on every pitch and excellent rock. It is consistent in difficulty, with the exception of a brief slab crux (the higher traverse following bolts with black hangers). This crux can be avoided by taking a natural but circuitous variation (the lower traverse following bolts with tan hangers): at 5.10-, it is easier but can create rope drag (intermediate belay on the Pegasus ledge recommended).

Sure to be a classic; the tedious approach through the desert from the Black Velvet parking lot is all that keeps this thing from having lines on it like the other great routes in Red Rocks.

Begin just above a spindly, twisted pine tree just up and left from the black crack that marks the start of Pegasus. A landmark is the curving, right-facing white flake halfway up the first pitch. Do not start below a lone, low bolt in a right facing corner - this is an off-route bolt and is much too far left.

P1 (5.10-, 100'): Follow a shallow, right facing corner (tricky pro) up until level with the white flake. Protect high in the corner, then step down and left to move over to the flake (0.5 Camalot in a slot protects this traverse for leader and follower), then follow the flake (bolt) to a belay on a chockstone.

P2 (5.10-, 90'): Up the wide corner (bolt), then carefully negotiate a loose section (bolt), finishing with a steep crack to an awesome belay ledge.

P3 (5.10-, 70'): Continue up the nice corner which concludes with a physical struggle past two bolts to a belay at a good stance.

You have a choice for P4:

P4a (5.11a, 120'): The line of the FA heads up past some pockets to a thin slab crux passing four bolts with black hangers. From here tiptoe up the teetering Jenga flake and then reach wildly up and left to good holds on the steep wall above (appears unprotected but there is solid, hidden gear). Continue into the Green Corner to a good belay ledge. This is the better and more direct line but is significantly harder than anything else on the route.

P4b (5.10, 120'): Climb up and then move right on a curving ramp passing three bolts with tan hangers to the long Pegasus belay ledge. I strongly recommend belaying here to minimize rope drag. From the ledge, move straight left past a black bolt to reach the teetering Jenga flake, cross the flake and tiptoe up, then reach wildly up and left to good holds on the steep wall above (appears unprotected but there is solid, hidden gear). Continue into the Green Corner to a good belay ledge. This is an easier and perhaps more natural path, but it is wandering and probably best done with an intermediate belay on the Pegasus ledge (if you intend to do this, it would make sense to link P3 into the first half of P4b to the intermediate belay).

P5 (5.10-, 80'): Climb the steep, varnished lieback (#4 Camalots) to a wedged block, then follow the splitter handcrack up the right face to the top.

Rap with a single 70m rope using anchors on both Pegasus and the Dragon (see topo).
Protection
1x small to 0.75 Camalot. 2x #1 to #4 Camalot. Optional wired stoppers. 70m rope.
Photos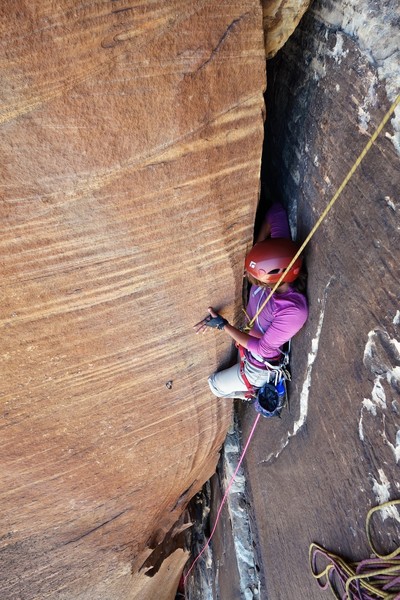 Mili Bar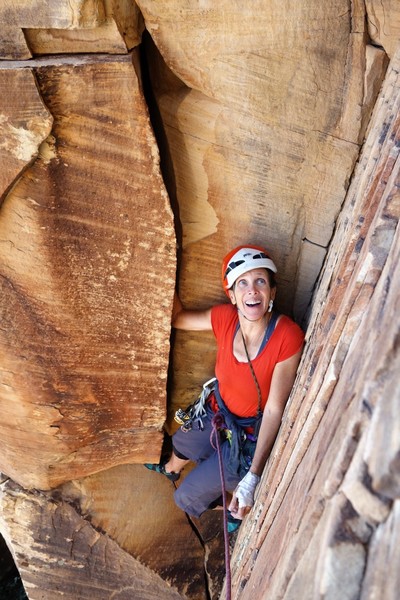 Mama Jo Crackin It Up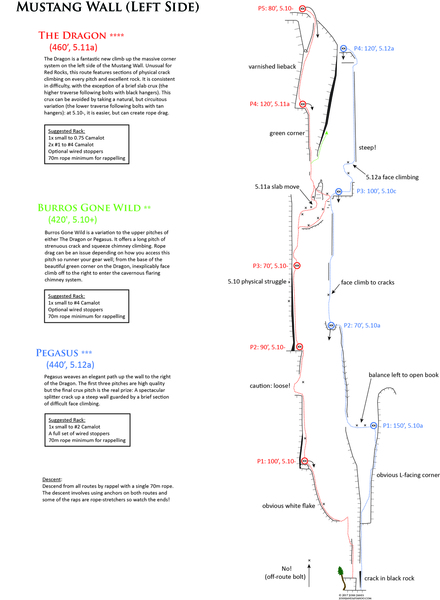 Mustang Wall (Left Side) Topo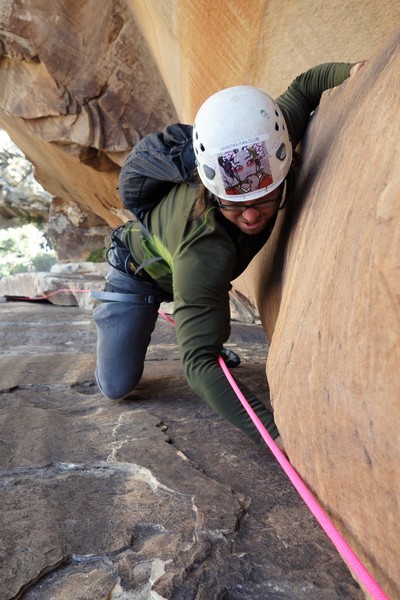 Killis Killing It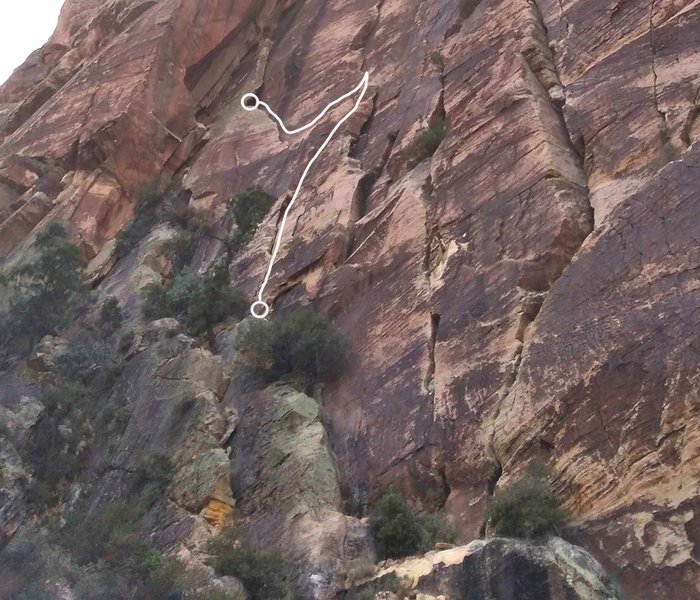 The start. This photo shows the first pitch - where to start and the general path of the climbing. Photo credit Rprops.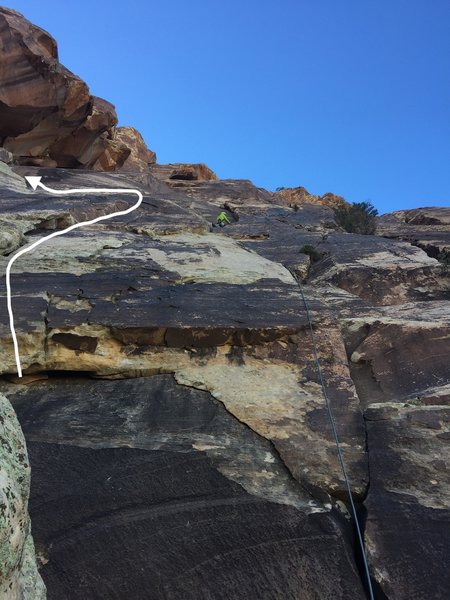 The start. This photo shows my partner on the 1st pitch of Pegasus. The Dragon begins from the low ledge just visible in the foreground on the lower left of the photo. Follow shallow corners then t…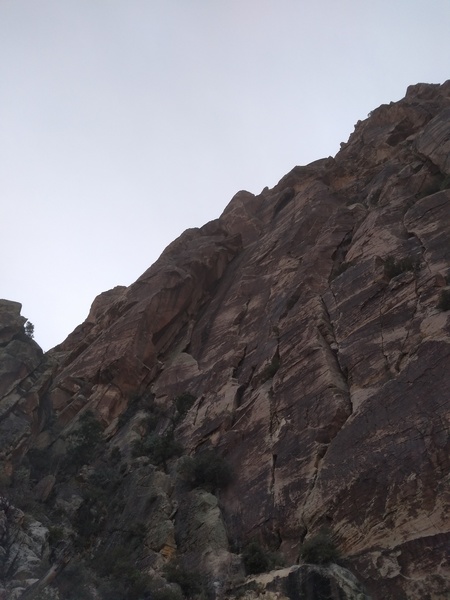 The Dragon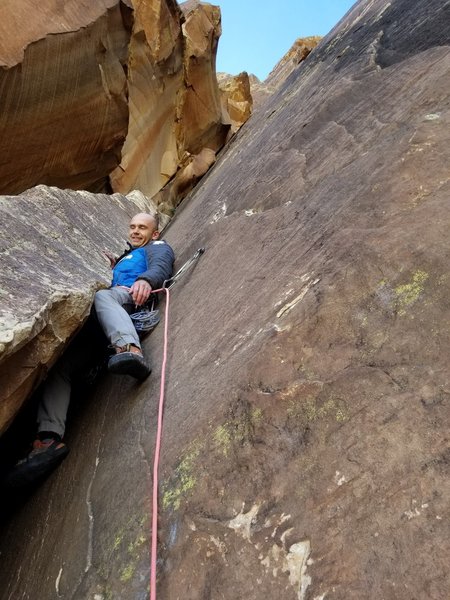 Oskar cruising the p2 off-width squeeze.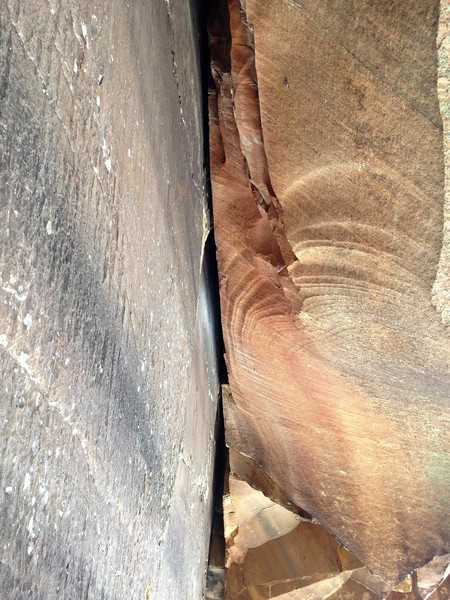 Corner System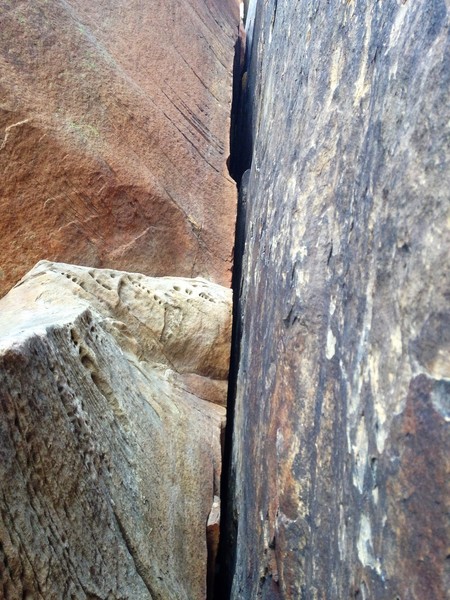 Not sure which pitch but it is fun;)