L'Arête
5.7+, Sport, 330 ft (100 m), 4 pitches,
Avg: 3.5 from 11 votes
FA: unknown
International > N America > Canada > Quebec > 03. Quebec City… > Palissades de C… > A. L'Arête
Access Issue:
You must register at the welcome center
Details
Regardless where you climb you need to register at the welcome / Accueil.
Description
5.6/5.7/5.7+/5.7
A beautiful route for introducing people to multipitch procedures with the added safety of bolts and bolted belays. Excellent scenery and rock. Follow the obvious arete from bottom to its logical end. One can do pitch 2 and pitch 3 as one pitch with a 70M rope.

Une belle voie pour initier les gens aux procédures de multi-longueur avec la sécurité supplémentaire des scellements. Excellent paysage. Suivez l'arête évidente du bas à sa fin logique. On peut combiner la longueur 2 et la longueur 3 avec une corde de 70M.
Location
Only about a 5 minute walk from the welcome center. One can get the trail map at the welcome center and take photos of the topo. Trails are well marked to find the climb. At the turn for the climb, there is a huge pile of talus and boulders. Gently, move up to arrive at the base of the arete where the climb starts.

Environ 5 minutes à pied du centre d'accueil. On peut obtenir la carte des sentiers au centre d'accueil et prendre des photos du topo. Les sentiers sont bien balisés pour trouver la voie. Au tournant de la voie il y a un énorme tas de talus et de rochers. Doucement, montez pour arriver à la base de l'arête où la voie commence
Protection
Sport bolted all the way with bolted anchors with rappel rings.
Bring 10-12 quickdraws.

Voie sportive avec les scellements et des relais avec les anneaux.
Prenez 10-12 déguaines.
Descent
You can rap down or walk off.
The walk off entails moving to a climber's access to the via ferrata. At the end of pitch 4, grab the knotted black rope and follow it for another 50 meters of so until you hit the metal via ferrata line (Lynx). Follow the metal line to the left to access the top of the climb and walk off down to the welcome center using the path for the "L'Aigle". WARNING: You need a dynamic leash or something similar attached to your harness if you want to use the via ferrata line for safety. We used one dynamic leash and one standard runner with 2 biners in a via ferrata style for safety.
The rappel is a little more complicated as the arete puts the rappeller off the side from the anchors. The last rappel requires a tree anchor.

Vous pouvez rappeler la voie ou descendre à pied.
La marche nécessite un accès à la via ferrata. À la fin de la L4, attrapez la corde noire nouée et suivez-la pendant encore 50 mètres jusqu'à ce que vous atteigniez la ligne de ferrata (Lynx). Suivez la ligne métallique à gauche pour accéder au sommet de l'ascension et descendez jusqu'au centre d'accueil en empruntant le chemin de "L'Aigle". AVERTISSEMENT: Vous devez avoir une vache dynamique ou un objet similaire attaché à votre harnais si vous souhaitez utiliser la ligne de via ferrata pour plus de sécurité. Nous avons utilisé une vache dynamique et une sangle standard avec 2 mousquetons dans un style de via ferrata pour la sécurité.
Le rappel est un peu plus compliqué car l'arête met le grimpeur a cote de l'autre cote des ancrages. Le dernier rappel nécessite un ancrage sur arbre.

Photos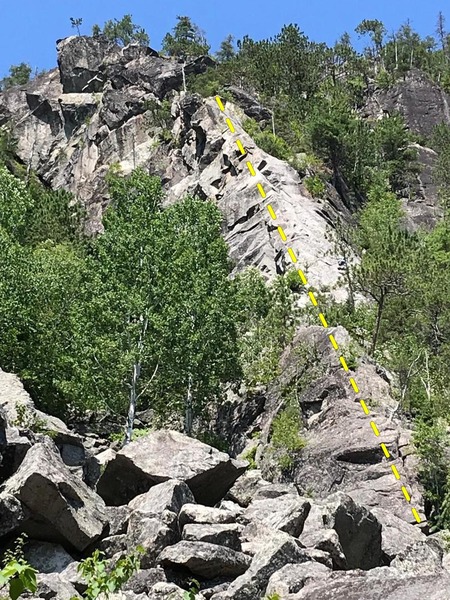 L'arête - route line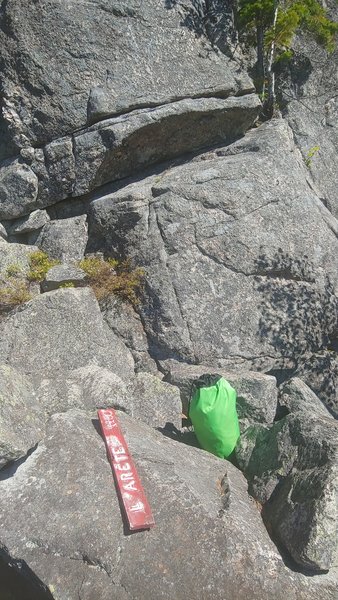 Début de L'arête 5.7+