Cracked Mirror
5.2, Trad, 25 ft (8 m),
Avg: 1 from 1 vote
FA: unknown
California > San Bernardino… > Big Bear Lake Area > Big Bear North > Big Bear City Area > Holcomb Valley… > Pinnacles South > Rear View Mirror Crag…
Description
Follow the blocky crack with jugs and hand jams to the slightly exposed chains. Take care of thin wafer-like blocks near the top. Belayer is recommended to wear a helmet.
Location
The obvious crack on the right.
Protection
Gear to 2.5". A few medium cams do well, but passive gear is recommended and well due to lichen. Double-bolt chain anchors up top.
Photos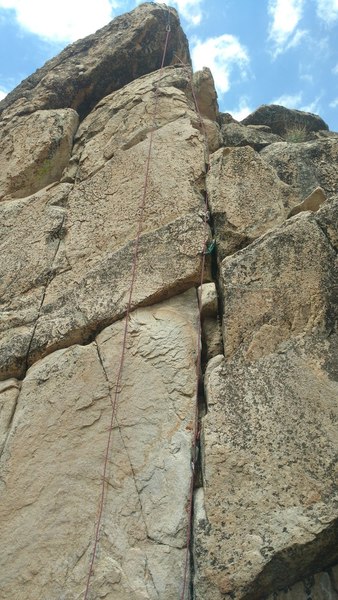 Follow the rope line up.