Mongoose
Avg: 3.2 from 6 votes
Routes in South Peak West Face (Main Area)
| | |
| --- | --- |
| Type: | Trad, 45 ft (14 m) |
| FA: | Eddie Begoon and Pete Absolon |
| Page Views: | 826 total · 21/month |
| Shared By: | T C on Jul 2, 2018 |
| Admins: | Andy Weinmann |
Your Difficulty Rating:
-none-
Change
Description
A cool short crack that has a couple cruxes, a lower crack crux, and an upper face/arete crux. It starts at the base of Marshall's Madness and then moves left ignoring the crack of Marshalls. Move around the corner slightly. Continue up a crack until it gets too small and flared to jam in. Make a few moves above your gear then get to a roof with a foot and a half long number two crack through it. Then pull over the roof and end up on the ledge at the top of the first pitch of Marshalls. I did it with Hunt Prothro in June of 2018. As of then, there is a bomber anchor on the first pitch of marshalls. It would be cool to link this into the Crack of dawn or into Marshalls as one really long pitch. You would just need to extend the pieces under the roof and the bolt anchor if you choose to clip them.
Location
In between Marshalls and Cotton mouth. On the corner of the face of a thousand Pitons and the Snake wall.
Photos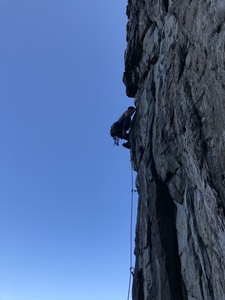 Rocking
0