Eaten Alive
Avg: 3 from 2 votes
Your Difficulty Rating:
-none-
Change
Access Issue:
City Park and Private Property
Details
Clifford Park is a city park which is in close proximity to many private landowners. Please be respectful of the park and land boundaries.
The Friends of Clifford Park regularly run trail maintenance days and coordinate with local landowners. If you have access issues please work through them.
facebook.com/friendsofcliff…
Description
The crux is getting out of the cave.

Sit start for the full tick....try not to be Eaten Alive!
Location
The farthest boulder in the park but worth the walk if you like a struggle.

Near the end of the green trail past the Murder Rock.

GPS data: (43.4839254,-70.4445606)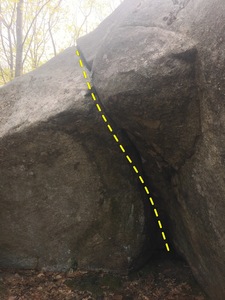 Beta
0