Iron Spike
Avg: 1.9 from 7 votes
Your Difficulty Rating:
-none-
Change
Access Issue:
City Park and Private Property
Details
Clifford Park is a city park which is in close proximity to many private landowners. Please be respectful of the park and land boundaries.
The Friends of Clifford Park regularly run trail maintenance days and coordinate with local landowners. If you have access issues please work through them.
facebook.com/friendsofcliff…
Description
The easiest variation of the Iron Spike climbs. Right up the middle and head climbers right to avoid the roof section.

Nothing especially wild about this climb but when there is nothing to climb within 1.5hrs of this town...this route is king.

Go get some laps!
Location
The Main Quarry access is closest to the Community Bike Center (CBC) - communitybike.net/
Be courteous of this access point and get involved with their mission if you feel inspired. Park just after the CBC on Sheltra Ave and then walk through the CBC parking lot. Head past the gate towards the park. Head right, bearing 45deg, to the uphill path. At the top of the hill, the trail splits left and should lead to a prominent spray-painted boulder. Past the boulder is an obvious boulder field that crosses the Main Quarry. Scramble across this boulder field and top out.
Go right and walk the cliffs to the end. Look for a large iron spike with a piton wedged at its base.
GPS data: (43.4834452,-70.4539372)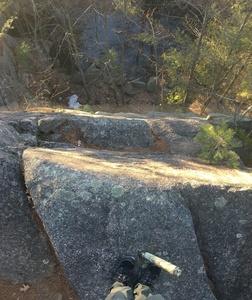 Beta
0