2nd Waterfall Middle Section
WI3-4, Trad, Ice, 115 ft (35 m), 2 pitches, Grade V,
Avg: 3 from 2 votes
FA: unknown
International > Asia > Kyrgyzstan > Issyk Ata
Description
This section isn't truly always in as a result of high flow on the left side of the waterfall. On normal years, the ice stays too thin to touch, but when it stays cold enough long enough, new climbs open up.

Although the first section can easily be soloed, it is always a good idea to place a couple screws on your way up just in case. Nobody likes hospital visits/bills...

The second pitch is vertical. Not terribly long; something like 15 - 20 metres, but sustained vertical ice that wedges you into a corner making placing screws a bit awkward.

All in all a nice climb. Get it on a good year and have some fun!
Location
When at the bottom of the waterfall, it is the side with the flowing water. If the ice is solid enough, it is possible to go on either the left or right of the main flow tube (always too thin to climb). Once above that section, the route follows the vertical section to the left of the curtain of ice.
Protection
Can easily get away with just a few screws per pitch.
Photos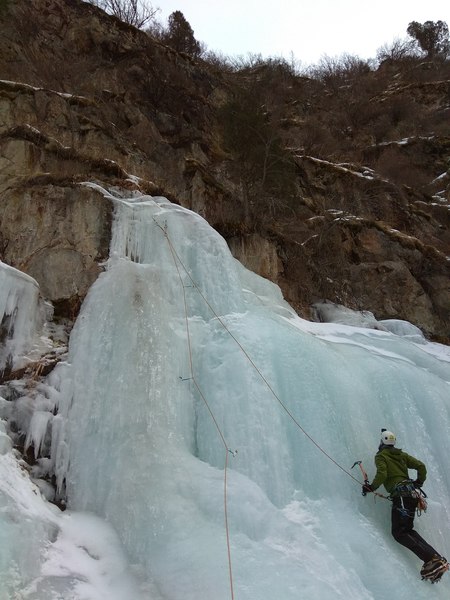 Jeff top roping the extreme right part of the middle section. Trying to get some picks into the ice curtain over there.