Indian Headress
V3, Boulder, 15 ft (5 m),
Avg: 2.8 from 6 votes
FA: roped - unknown. Bouldered - B. Cavanaugh
Massachusetts > Eastern, MA > Ayer Boulders > Indian Headdress
Access Issue:
COVID-19 Guidelines
Details
SNECC is encouraging all climbers to use caution and good judgment regarding the spread of coronavirus. Please reference guidelines provided by local government, land managers, and LCOs to ensure you have contingency plans at an area you may have planned to climb at if you are unable to practice social distancing. For further information, please see the pandemic guidance provided below at:
gunksclimbers.org/gunks-new…
.
Description
The original post of this route has a good description. I'm posting it as an actual route, because I feel it deserves it. Anyone have the history on this? Grade check?

Start on small crimps and little feet. Move straight up through little edges. There's a great finish on a nice edge and bomber pinch over the lip. This may have a different name. It is an old route that's probably in some old timer's climbing journal.
Location
It is the only route with bolts.
Protection
A pad. Watch out for old, rusted hangers. Maybe it's best to remove them? You could get caught on them if you miss the lip. I would not trust the bolts for roping up.
Photos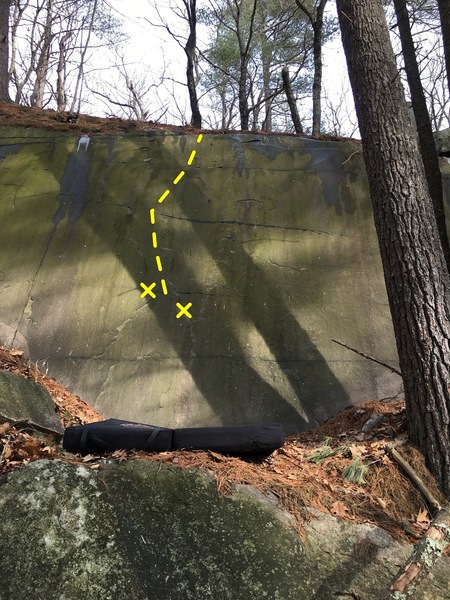 Indian Headress.