Chutes Too Wide
Avg: 2 from 1 vote
Your Difficulty Rating:
-none-
Change
Access Issue:
Check NPS for Closures
Details
Description
After climbing CTN I just had to put this up! From a fingers to OW , then a slopey finish this route will test you through all the sizes! Don't let the Wideness detour you it's actually pretty fun.
Location
This is the obvious finger /hand to off-width crack ten feet right of Chutes Too Narrow. Shares the last 4 bolts and anchors with CTN as well.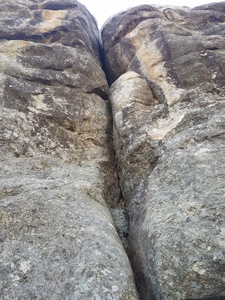 CTW
0