Mahtah
Avg: 4 from 3 votes
| | |
| --- | --- |
| Type: | Trad, 1500 ft (455 m), 15 pitches, Grade V |
| FA: | Lucho Rivera and Cedar Wright May 31, 2013 |
| Page Views: | 1,989 total · 56/month |
| Shared By: | blakeherrington on Nov 7, 2017 with 1 Suggestions |
| Admins: | M Morley, Adam Stackhouse, Salamanizer suchoski, Justin Johnsen, Vicki Schwantes |
Your Difficulty Rating:
-none-
Change
Access Issue:
Latest updates on Covid and 2020 visits.
Details
Please visit
climbingyosemite.com/
for the latest information on visiting Yosemite in 2020.
Ongoing Issues:
Yosemite National Park climbing closures and conditions
Yosemite National Park has yearly closures for Peregrine Falcon Protection March 1- July 15.
Always check the Yosemite website Peregrine Closure page at
nps.gov/yose/planyourvisit/…
for the most current details and park alerts, and to learn more about the peregrine falcon, and how closures help it survive. This page also shares closures and warning due to current fires, smoke, etc.
Description
Mahtah is an amazing route that should be considered on par with some of the better long sustained 5.12 crack climbs in the country. It has very little wide climbing, and lots of pumpy endurance climbing and traversing, with no singular bouldery problem or sequence harder than V4/V5. The rock quality is excellent.

The climb follows several long right-facing corners, with a few memorable roof encounters, some splitters, and a 45m traverse pitch to connect major crack systems into a free route. The setting above Nevada Falls and perched above the main Yosemite Valley is scenic, and the walkoff descent is casual.The overall difficulty is needing the fitness for completing similarly demanding endurance pitches stacked together, along with the technique for some slabbier bits. Most people will find P5 (sustained 5.12, pumpy gear and maybe a bit grassy) or P6 (shorter with straightforward burl) to be the crux pitch. The FFA team left the grade a bit open ended in the AAJ, suggesting 80s 5.12b to 5.13- for the overall.

This route combines sections of the aid routes SW Face, Direct SW Face, and Bad Moon Rising, but doesn't rely on much fixed aid gear. The attached topo is all you really need, go have fun!
Location
This route starts directly above a bolted rappel anchor on the traverse ledge that runs below the face, and is roughly in the center of the wall. Begin at a right-trending flake with piton scars and marginal gear. Descend the non-technical NE gully to the trail above Nevada Falls.
Protection
Single purple c3
2x green c3
2-3x red c3
2-3x yellow c3
3x purple .5 camalot
2x #.75-2
1x #3, #4

Set of wires, slings, many draws, 60m rope

The "Crack of God" traverse is a 45m down-trending feature (P7) on which you can't reasonably haul a pack, meaning someone will probably be climbing wearing a bag. This crack is almost entirely #.5-1 camalot sizes, with the belay at the the end of the pitch being the first non-bolt belay. The pitch ends in a big right-facing corner, so there's some potential for the follower to take a dangerous swing late on the pitch. The belay can be made with stoppers and yellow C3/red C3.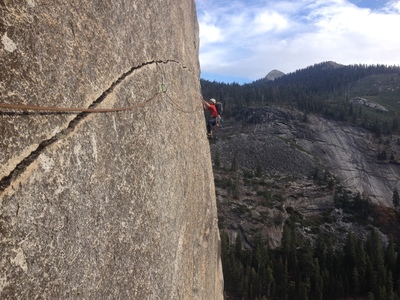 P7 Traverse
14