Game of Thrones
Avg: 3 from 3 votes
| | |
| --- | --- |
| Type: | Trad, 150 ft (45 m), 3 pitches, Grade II |
| FA: | James Stover, Mickey Guziak |
| Page Views: | 940 total · 17/month |
| Shared By: | Airbiscuit on Sep 23, 2017 |
| Admins: | Jesse Zacher, Jared LaVacque, Bradley Mark Edwards, Nick Reecy, Leo Paik, John McNamee, Frances Fierst, Monty, Monomaniac, Tyler KC |
Your Difficulty Rating:
-none-
Change
Description
Game of Thrones ascends a wandering path of least resistance to the summit. It is not super awesome in aesthetics or rock quality, but it definitely has some good sections and makes a quickie for those looking to bolster their numbers.

P1. Find the overhanging chimney crack on the northwest face. Climb the crux at 5.9+, then head up through the tower to the south side and a gear belay in the sun, 5.9+, 70' +/-.

P2. Wander up right past easy broken plates to a short hands section where you are forced to make some moves right on steeper ground. Head up to a subsummit, and sling the top of this for an anchor, 5.9, 70'+/-.

P3. Climb a bold 5.7 face to some gear and then more bold, easy climbing to the summit and a two bolt belay, 5.7, 30' +/-.
Location
Walk out to the Window Rock overlook for a good view. The start is on the opposite side of the tower from this viewpoint but you can see the upper two pitches. walk 150 yard left and fix a rope to decend the 5th class broken terrain. Walk and bushwalk to the base.

Rap one long 150' rappel to the base.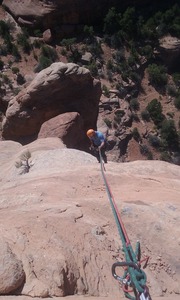 Success!
0