North Face
Easy Snow, Snow, Alpine, 1000 ft (303 m), Grade II,
Avg: 2.7 from 24 votes
FA: unknown
Washington > Northwest Region > Hwy 20 & N Casc… > N Cascades > Ruth Mountain
Access Issue:
Seasonal Raptor Closure at Newhalem Crags March 1st to mid-July
Details
Peregrine falcons select nest sites on cliffs in the Upper Skagit Valley, including the Climbing Management Areas of Newhalem West (Ryan's Wall) and Newhalem East. As required in the NPS Superintendent's Compendium, these areas will be closed to all public from March 1st to July 15th of each year, or until the young falcons have fledged or NPS staff have determined that nesting will not occur on a specific wall during this period. Access Fund, Washington Climbers Coalition and NPS partner on a volunteer raptor monitoring program to determine nesting activity. Contact the NPS and/or WCC for updates.
Description
A great introduction to glacier travel in the North Cascades. Enjoy a bit of exposure as you work your way up the snow-covered glacier on the north face of Ruth, with a (usually) minimal amount of crevasses to avoid. Once you gain the summit ridge, enjoy increasingly-epic views of Shuksan, Baker, and the Picket Range as you make the last push to the summit.

The climb is most often done in a day from the trailhead, but can also be completed in a leisurely two (or even three!) days. If you choose to camp, the Hannegan Camps (just below Hannegan Pass) are a great location that offers plenty of tent sites and a toilet. Camping is also permitted along the saddle between Ruth and Point 5930. If you choose to use the bivy sites on the summit of Ruth, be aware that this is inside the North Cascades National Park and as such requires a permit (which can be acquired at the Glacier Public Service Center).
Location
Head east on Highway 542, leaving the highway at Hannegan Pass Road and following signage to the Hannegan Pass trailhead (where a NW Forest Pass is required, available at the Glacier Public Service Center).
Hike the 4 miles to Hannegan Pass, and from there follow the climbers trail south towards Point 5930. Beware, during late season this trail follows a very eroded creek bed (coming back down this trail is probably the technical crux of the whole day). Follow the trail left around Point 5930, and across the saddle to the base of the climb.
Protection
Crampons, Ice axe, pickets
Photos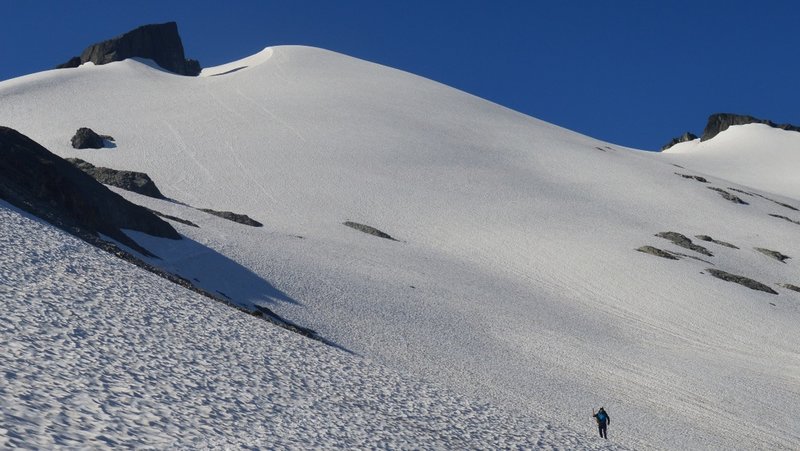 start of snowfield. zig-zagging takes the edge off the climbing but it's more fun to climb straight up. notice glissade tracks coming down left of center. Crevassed area is off camera right, so you…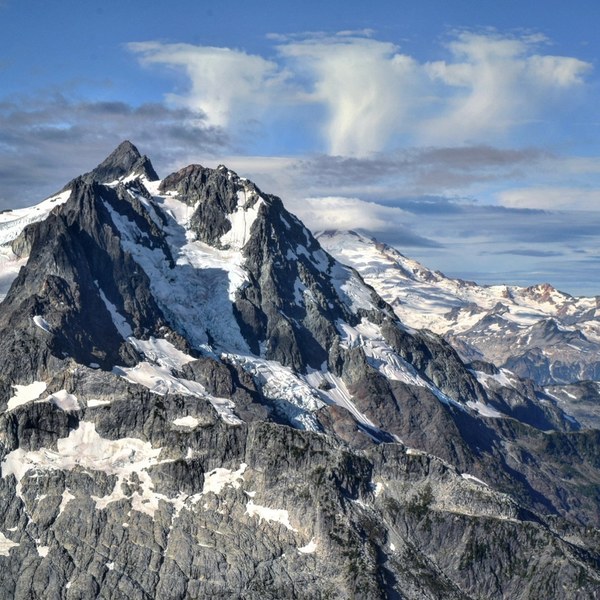 Views of Mt Shuksan and Mt Baker from the summit of Ruth. 06 SEP 2018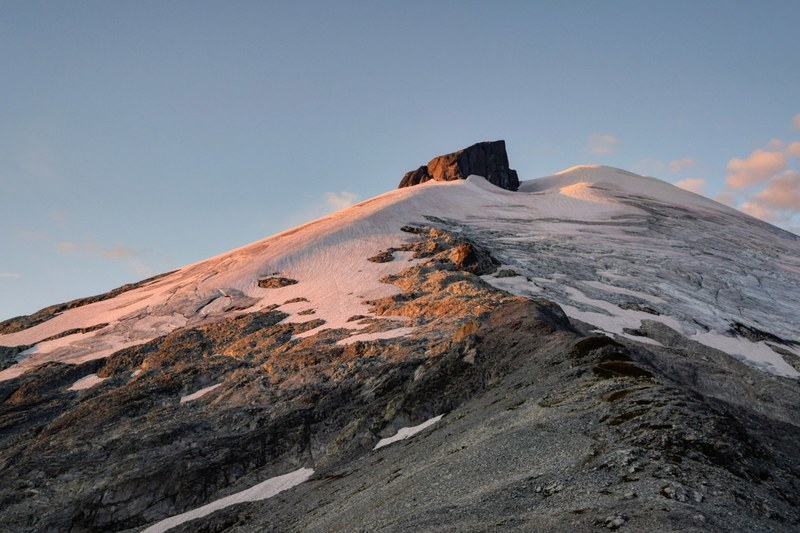 Looking at the North Face during a gorgeous sunrise. 06 SEP 2018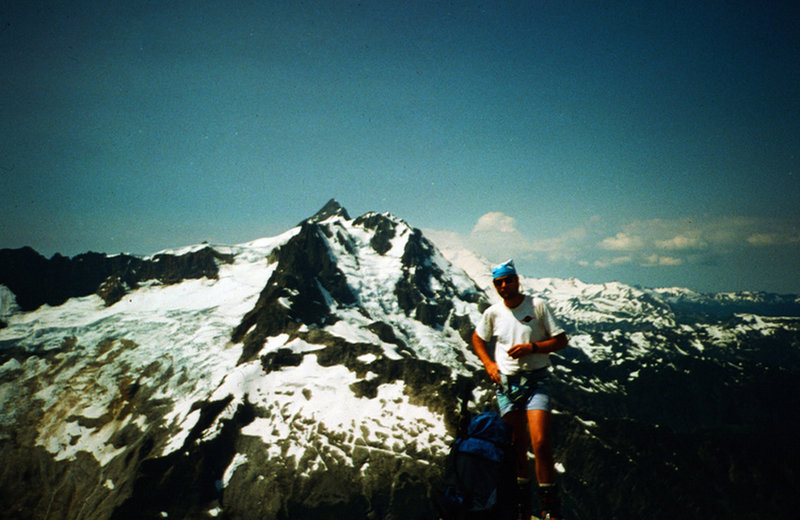 Ruth summit on a July ski tour 1990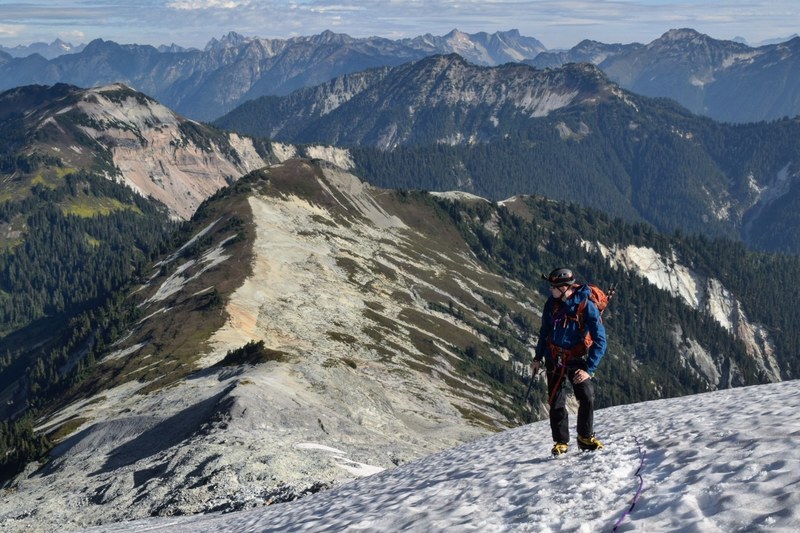 Ascending the first snowfield on Mt Ruth. Mostly 30 degree snow with a few spots pushing 45 degrees.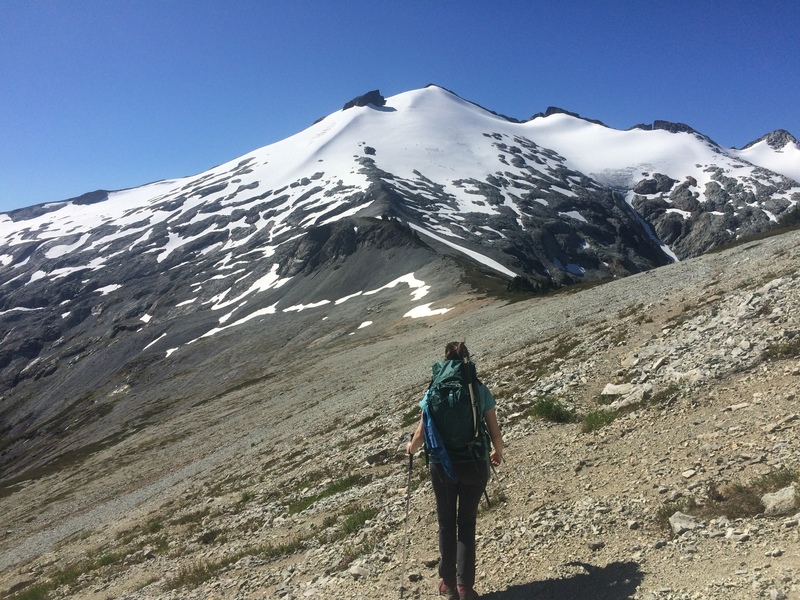 Traversing around Point 5930 on the way towards Ruth Mountain.