Crescendo
Avg: 3 from 2 votes
Your Difficulty Rating:
-none-
Change
Description
This is a fun new single pitch climb that is essentially a rerouting (with direct start and direct "finish") of an old abandoned EB project. It ends in a bowl below the blank headwall.

The climbing gets harder and harder with each move, but with great stances at each protection point and mostly positive eyebrows, it makes for a fun outing.

Climb the easy corner to a ledge. There is a good pod for a #1 camalot or tricam here. Crimp up and left into eyebrows and gear, pass a bolt up semi-spicy slabbing, to a sloping ledge beneath the steepening wall. Climb past another bolt, a blue and purple tcu (different placements), then two more bolts. At the last bolt, move a ways right then up and back left to the anchors.
Location
Start in the short left-facing and arching corner that marks the leftmost end of the Hyperbola Flake.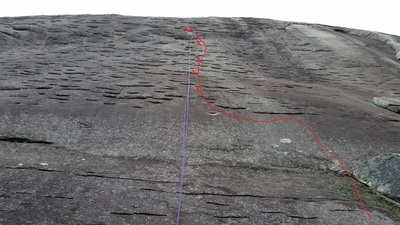 topo
0