Crescendo
Avg: 3 from 2 votes
Your Difficulty Rating:
-none-
Change
Access Issue:
Potentially Closed Due to COVID-19 - Please check for closures before going and DO NOT TRESPASS! / 2020 Raptor Closures on the Nantahala-Pisgah LIFTED
Details
On 5/8 at 5 pm, some restrictions will be lifted for the state. Please check before going regarding closures and DO NOT TRESPASS! Be sure you are practicing social distancing of 6ft between you and other people you do not cohabitate with. For more information see the CCC site:
carolinaclimbers.org/covid-19
In addition - all 2020 raptor closures on the Nantahala Pisgah NF are LIFTED as of 6/29/2020
Description
This is a fun new single pitch climb that is essentially a rerouting (with direct start and direct "finish") of an old abandoned EB project. It ends in a bowl below the blank headwall.

The climbing gets harder and harder with each move, but with great stances at each protection point and mostly positive eyebrows, it makes for a fun outing.

Climb the easy corner to a ledge. There is a good pod for a #1 camalot or tricam here. Crimp up and left into eyebrows and gear, pass a bolt up semi-spicy slabbing, to a sloping ledge beneath the steepening wall. Climb past another bolt, a blue and purple tcu (different placements), then two more bolts. At the last bolt, move a ways right then up and back left to the anchors.
Location
Start in the short left-facing and arching corner that marks the leftmost end of the Hyperbola Flake.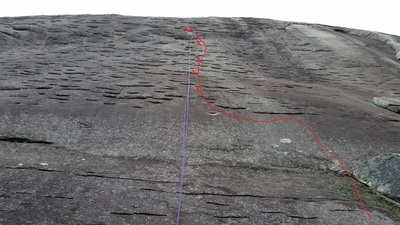 topo
0