Out of Order
Avg: 2.8 from 9 votes
| | |
| --- | --- |
| Type: | Sport, TR, 40 ft (12 m) |
| FA: | unknown |
| Page Views: | 626 total · 13/month |
| Shared By: | Matt Wenger on Jun 10, 2017 |
| Admins: | GRK, Zach Wahrer |
Your Difficulty Rating:
-none-
Change
Description
Climb the bolted east face/arete. First bolt is kind of high. Can reach around from the boulder ledge and clip the first bolt in lieu of stick clipping.

Descent: Walk off right.
Location
East side of the Queen North face, on the arete. Start on the dirt down below the big boulder.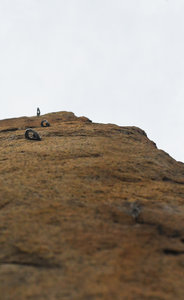 Close up
2