Korstorget
Avg: 3.5 from 2 votes
Your Difficulty Rating:
-none-
Change
Description
Superlative climbing of all types. Do this route if you've done Vestpillaren and thought, 'cool, but gimme some more o dat buttery sauce'.

This route has it all, except burly offwidth. So 'it all' being everything that can be enjoyed while rock climbing. Techy dihedrals, blasting hand cracks, techy liebacks, long traversing faces, and thin, exciting slabs. Even the exit groove at the top wasn't unenjoyable.

P1. Start up dihedral over a few small bushes. Left of Ypperpresten. Follow this until you can traverse left onto a grassy ledge and belay. 10

P2. Left up blocks until you can get into the RF dihedral. Up this to the top, choosing the best way you can as you go... not all paths are created equal. Belay left on grass/ledge to the right of the obvious layback flake of the 3rd pitch (9++).

P3. You see that lieback flake? Go get it. And then hand crack. And finger crack. And some wide weirdness (brought that #4?). Save a #3 or #4 for the belay or you will have to hang awkwardly. It's so good. (10+)

P4. Move right off the flake above the belay to the vague dihedral to your right. Blast up this to a belay at the L side of storhylla. (9 fun!)

P5. Traverse left along indistinct features, picking your path as you go until you can head up a rf dihedral to a single bolt belay (nut in crack to right and use the rope to build an anchor). Gear can be found along the way, but a fall would be unpleasant. (10R)

P6. Straight off the belay up the easier than it looks face to the 3 bolts. Tech your face off and then head up and right to the roof when you can. Long runners on the gear, traverse back left and figure out how to get to the stance above (see it, can't ya!). (11)

P7 Couple of options potentially. I went up and right before trending slightly back left to a hole feature and a piton before stepping left into the RF dihedral. Another option appeared to be to bust left hard right above the belay and enter the dihedral from below. Either way, it's thin gear. Best not to blow it. Follow the dihedral to the top and belay on the grass to the left. (10R)

P8 Head straight up (not left as in the guidebook) and gain the crack above, which becomes a chimney (not so bad). Head left into the leaning dihedral when you can and belay 10m above or so. (9)

P9-P11ish Blast up the groove above. It's about 5.6 and 130m. I stretched out a 70m pitch to just under a roof, which kept me sheltered in case the leader knocked off rocks on the loosest bits (which, unfortunately, are at the end). If you have 50m you'll need to belay twice.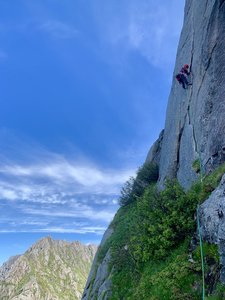 Pitch 3
0